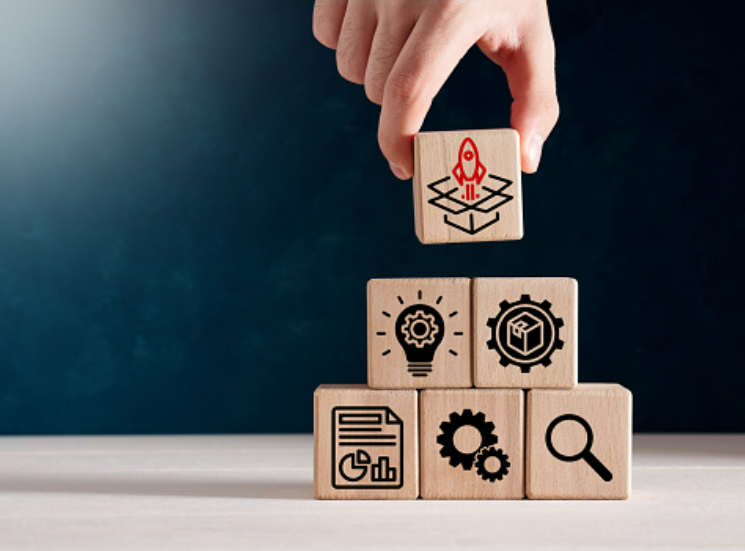 What is Minimum Viable Product?
Do you want to start a small business and want results in less time? To add value to your product and deliver an outcome that grows with a reasonable budget and limited resources, a Minimum Viable Product (MVP) is the best choice for a better successful business Startup.
However, understanding the concept of MVP is essential. It will help you to focus and highlight important things while saving a lot of your time.
Let's start with the basics and see what MVP is. An MVP results from a final product developed for customer execution and satisfaction. MVP is an excellent option for satisfaction, adoption, and sales.
The product is so big enough that it'll hold all your solutions within itself. 
MVP is a prominent spot between ROI (Return On Investment). Also, an MVP is an outstanding product that gathers a team to build a quick learning process and develop improved final results.
The primary purpose of an MVP is to test the elementary thesis for your business model and make it flourish.
MVP helps the producers to check the product before launching it into the market to gain success rather than losing. Now let's have a look at the types of MVPs!
Types of Minimum Viable Products
Whenever a new product is launched in the public market, its main motive is to solve specific consumer problems and win profits from the owner's hard work.  
An MVP consists of two main types High Fidelity MVP and Low Fidelity MVP. These two types are further classified into many different styles. 
1. High-Fidelity MVP
High-fidelity MVPs are used to find how much a customer is willing to pay to the seller for its products. It also finds an early adaptor that works as a customer to spread the word about the new startup business.
High-fidelity MVPs also help in making business strategies and optimizing marketing plans.
Identify your business's potential growth with a High-fidelity MVP like an expert without wasting your precious time. 
Moreover, these are low time costing products!
2. Low-fidelity MVP
Low Fidelity MVP works the same as a high one; taking the name low doesn't mean its quality is that low. It is used to build a good understanding of the customer's problem.
Its job is to check and produce proper and valuable solutions for the problems mentioned by the customers. However, it also investigates whether the problem mentioned is worth solving. 
Explore the market and try forwarding the most effective solutions for the customers to flourish your business with a Low-fidelity MVP like a pro. 
Before choosing any MVP, keep some essential points in your mind for a better result.
 What your most significant potential risk could be?

 What can you afford? Don't spend so much on your first trial.

How much time do you have to build or use an MVP to produce a final result?
How to Build a Minimum Viable Product?
How to build a minimum viable product is a real issue that needs an accurate and proper answer. Follow these simple steps below and create an MVP like a pro.
Start with marketing research; think like a customer, not a builder. Once you find your clients' pain points, start researching them thoroughly. Conduct surveys. The more information a business has, the higher chances are of its success.

Keep an eagle's eye on your competitor's offers, and try to offer more than them. Yet, maintain the quality of your services; otherwise, it will take you toward loss.

Add value to your product. Explain in depth what value your product will give to the users. Outline according to your user's needs and then build an MVP regarding their needs.

Please focus on the design; it is vital to building an MVP. Design the app according to the user's convenience and satisfaction.

However, after laying out the whole plan, focus on its procedure and remember to define its features step by step for easy usage.

Prioritize the features. At the following stage, your primary focus should be considering all the features a launched MVP  will support.

Categorize all the features as low priority, medium priority, and higher priority.

Lastly, launch your MVP like a pro. Once you have learned and decoded the strategy for market needs, publish your final product and enjoy when your final product fulfills the customer's needs.
Purpose of an MVP
Eric Ries introduced the concept of an MVP. His primary purpose was to make a learning methodology for any new business startup. In his book, THE LEAN STARTUP, he discussed the whole method in 2009.
An MVP can work as a product manager and give you many purposeful benefits:
It can validate product idea hypotheses with real-life data without wasting precious time.

Reduce your visits to markets to hunt new feature releases.

It delivers value to your early adopters quickly.

An MVP is the shortest and most convenient route to deliver the most valuable product to your first customers while continuously obtaining learnings for you.

Its primary purpose is to test your product that fits perfectly into the market before building a full-prove product.

MVPs can also be used as a leading component for your product robotization process and help you to make data-driven decisions.

Eliminate waste, and save time and money to spend on other valuable places with an MVP.
Key Characteristics of an MVP
The developers of an MVP are using every minute to develop products beyond our imagination. However, an ideal MVP comprises three major vital characteristics such as;
An MVP provides trustworthy and loyal feedback loops to the customers and producers for better future development.

Also, it suggests future benefits that an MVP can retain earlier using different adapters.

It adds value to the product that people will surely think about buying or using the initial product.
The main key characteristic or motive is to find out about the product's final result. However, if clients do not like it, the production company might change or even abandon their projects without wasting time.
Feedback from users may affect the original project. Moreover, the developing teams will only spend their time, money, advertising, and efforts on products people like or want.
Here the critical characteristics of an MVP work like a hidden gem.
Alternatives to an MVP
An MVP is an ideal product of any marketplace, but unfortunately, every ideal has an alternative too.
Similarly, our popular MVP also has excellent options like MLP and MMP that can be used instead of MVP for solving problems in the tech world.
1. Minimum Lovable Product
Minimum Lovable Product is the same as MVP; it is a version of the manufactured product designed with extra care and love while focusing on UI. It solves customers' problems happily and delightfully.
An MLP solves the problem without asking the clients and finding it independently. MLP attracts many clients because they don't have to waste time explaining their concerns.
2. Minimum Marketing Product
A minimum Marketing Product is also an updated version of an MVP pushed directly into the market. It is similar to MVP but has a few differences.
MMP is so uniquely designed that customers instantly flock to it because of its benefits. 
MMP is an ideal product that helps companies hit the market at the right time, not before or not too late, by making a proper plan.
It automatically shows its result whenever a product is ready to enter the market and reach its desired customers.
3. Kano Model
Kano Model is also used as an alternative to an MVP. It is known as the theory of product development and customer satisfaction with preferences. 
With growing technology, customer requirements also change. Kano Model focuses on keeping and joining the old customers with the company.
However, the idea of Kano is purely based on delightful innovations that can become another essential need for living.
Minimum Viable Product Example
There are many examples of Minimum Viable Products; like every product, the quality also differs. However, we have gathered some high-top-notched examples of MVPs from thriving tech companies.
AngelList was founded in January 2010 by Babak Nivi and Naval Ravikant. It is based on concierge MVP, a startup with many investors, and additional matchmaking algorithms.
It also comprises high-level search functions; the startup of the AngelList was only based on Manual email intros. With time, it flew so high that the makers established a website that works wonders today.
Airbnb was founded in 2008 by three famous brokers Nathan Blecharczyk, Joe Gebbia, and Brian Chesky. It is an online marketplace that works as a broker to find homes for customers. 
It connects the customers to their desired lands, space, house, and home. Also, it charges some commission from the customers on every booking. It is one of the best working examples of a successful working MVP.
Moreover, consider Airbnb (Air bed and breakfast) the best option for a comfortable place to stay.
Foursquare is a tour guide app that suggests new and good places near their current location to customers. It existed in 2009 and was redesigned in 2012 for a better publication.
Foursquare Labs Inc. introduced it to guide and recommend places to you. The best part? Everyone can use it from anywhere in the world. 
Can you imagine Facebook was just a simple social media site, introduced to connect students of Harvard University to share messages posted on share boards? 
Yes! It was named "The Facebook." Mark Zuckerberg introduced Facebook, throwing it into the market like a super hit piece. 
Zuckerberg, however, managed to continue his idea while gaining unexpected success; his vision skyrocketed the affection of social media so well that it happened; next everyone knows.
Facebook has become the most helpful MVP all around the world.
Dropbox is the best and safest way to sync and back your folders into your computer invisibly. You can also connect to your Dropbox app through Cloud, sitting anywhere in the world and using any device. 
Over 700 users are satisfied with Dropbox services, and you can back up your important content, web shortcuts, Cloud, and traditional files in one place like an expert without the fear of losing them.
Moreover, it is mainly used by banks, offices, video stores, libraries, and post offices, allowing customers to drop their items securely into their pockets.
You can easily download Dropbox into your device from their original websites.
MVP Software
An MVP is the first product form used and released to solve users' problems like a magic wand. It provides fundamental importance and functions without any extra or useless features.
However, entrepreneurs or business persons use MVPs to know how customers feel about their idea, and for this purpose, MVP software works just like a telephone to connect them both.
An MVP Software works as a test product hypothesis using the least resources. It accelerates learning for both client and the producer. The software also reduces wasting of engineers' hours. 
It showcases the final product to the customers as soon as it is launched to gain profit and fame. The MVP Software also works as a base maker.
It suggests the makers of other products be launched into the marketplace for customers' problem-solving facility. 
Moreover, MVP software is a brand builder too! It helps any startup company fly higher and quickly gain a brand name.
Conclusion
Decan MVP's importance uses, and languMVP with us like an expert because this article contains all the valuable points you must dig through to know about the MVP. 
MVP ultimately prepares you to build your product with little steps to avoid falling and losing your hard-earned money.
More Resources:

Vijay Kumar is a digital marketing expert and founder of TechZant.
He is passionate about helping businesses grow their online presence through SEO and data-driven strategies.