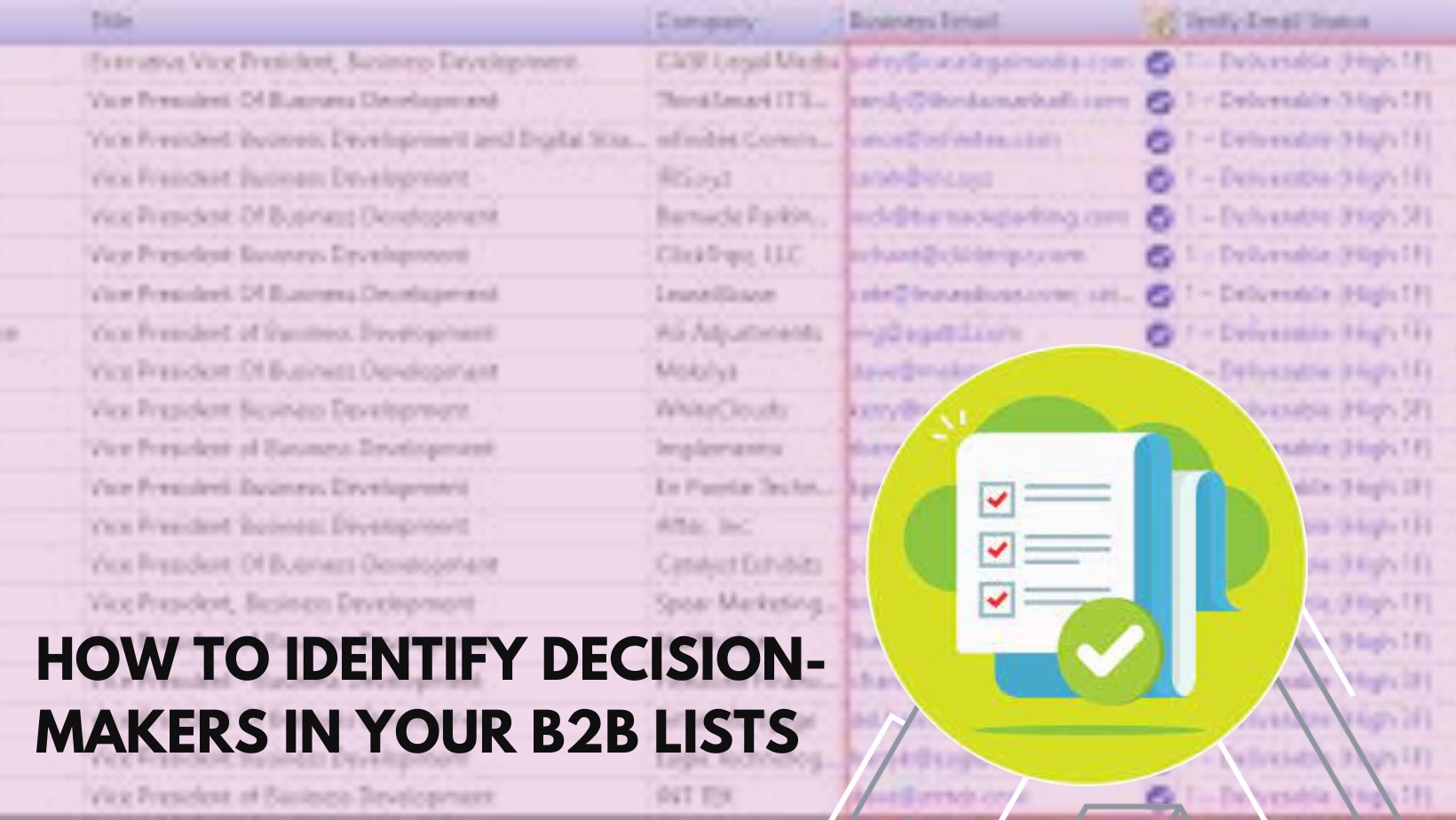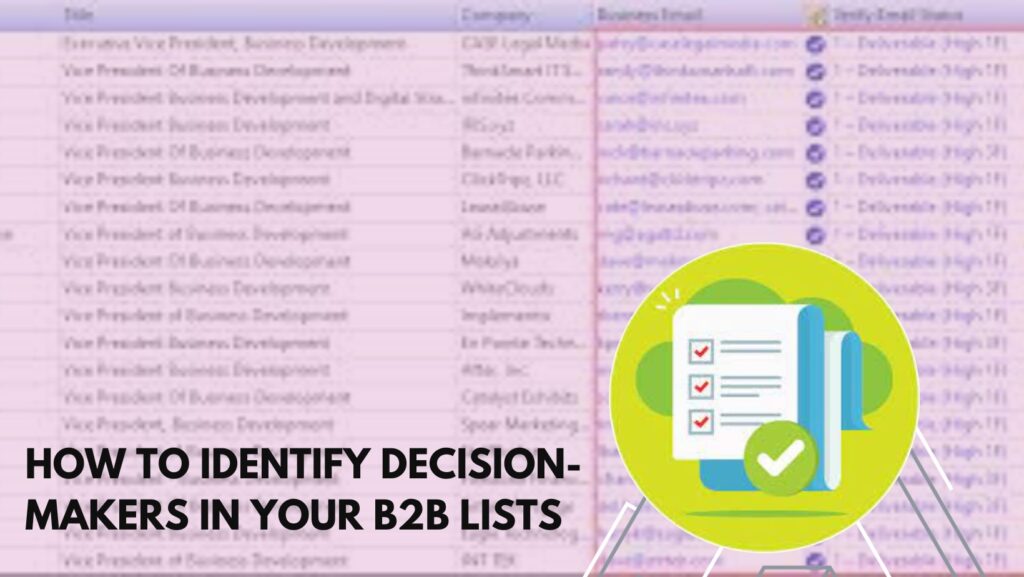 Introduction
Even the most enticing offer can lose its impact if presented to the wrong individual. Similarly, if the person you're targeting lacks the authority over crucial decisions, your efforts can be unsuccessful. Failing to distinguish between those who hold decision-making power and those who don't can lead to inefficiencies for your sales team. This article will explain essential strategies for effectively identifying and reaching out to genuine decision-makers within a business. 
By implementing these strategies, you can ensure that your initial contact is with influential buyers, eliminating the need to uncover them later.
Eight effective strategies to identify the right decision makers from your B2B lists
1. Create a decision-maker persona
Before being able to identify the key persons in your B2B lists, you must have a clear understanding of what you are looking for in a decision-maker. This will help you narrow down the search. 
Some of the aspects you may want to look for include:
Title:

 The decision-maker should hold a position of authority in the company.

Experience: 

The decision-maker should have experience in the industry and with the type of product or service you are offering.

Budget:

 The decision-maker should have the authority to approve purchases.

Influence:

 The decision-maker should be able to influence others in the company.
2. Research the company
Gather information about the company. Visit their website, read their annual reports, and review other publicly available information. 
There are two ways to perform effective web research:
2.1 Traditional research method
Manually visit the About Us page and leadership pages on the website to get an idea of the company's structure, hierarchy, and number of probable decision-makers.
2.2 Using an extension or automated software
You can get quick information on the business decision-makers using contact finder tools. 
While this method can save time, it's important to note that full reliance on its outcomes isn't recommended. 
Manual research offers greater accuracy than the results obtained using an extension or tool.
3. Decode email address patterns
Deciphering email address patterns can be surprisingly revealing. Decision makers might have additional elements or variations in their email addresses. 
These variations can include titles, departments, or other identifiers that set them apart from the addresses of regular employees. 
This pattern recognition can help you differentiate between common employees and those who hold decision-making positions.
4. Look for leadership roles
Identify the critical leadership positions within the department you're targeting. Individuals holding these positions usually have decision-making authority. 
This may include titles such as:
CEO

CMO

VP

Department head

Directors

Founder

Proprietor

Project Manager 
However, titles can vary across industries and companies. It's important to approach the identification of leadership roles with precision. 
Search for keywords like "Head of," "Manager," or "Lead" in combination with relevant departments like "Procurement," "Operations," or "Finance."
5. Utilize LinkedIn
LinkedIn is a valuable resource for finding professionals and their roles in a company. Search for the company and filter the results to show employees within the department you're interested in. 
Pay attention to their job titles, roles, and responsibilities.
There are three ways to use LinkedIn to identify stakeholders of a company:
5.1 Use LinkedIn connections
A simple message can establish contact if you're already connected with the decision-maker on LinkedIn. 
In cases where your connection lies within a different department of the same company, you can inquire about the decision-maker's identity.
5.2 Search for job titles
If the first method doesn't yield results, consider navigating the company's LinkedIn profile. Look for specific job titles that often correspond to decision-makers. 
This approach can lead you to the right individual or narrow your search.
Note: Use advanced filtering in the LinkedIn sales navigator to get more relevant results quickly.
5.3 Make direct contact
Although it might sound traditional, sometimes a phone call is the most effective way to locate the decision-maker. 
Often, the person answering the phone can readily provide you with the contact details of the relevant individual.
6. Analyze past decisions and initiatives
Delve into the company's history by reviewing previous announcements, press releases, or public statements. 
Identify individuals consistently portrayed as decision-makers and analyze their involvement in pivotal initiatives.
Example: A healthcare professional seeking to introduce new medical equipment can review past medical technology adoptions and identify the leaders and key influencers involved.
7. Enrich your B2B email lists
B2B list enrichment is a crucial part of email list building. It involves enhancing your existing database with additional information to create a more detailed and accurate profile of each prospect. 
By supplementing your database with these enriched details, you gain a deeper understanding of your prospects, allowing you to tailor your outreach for better engagement. 
Suppose you have a bulk list to enrich. In that case, you can outsource this task to a reputable data enrichment company to save valuable time and resources.
8. Stay updated
Leadership roles can shift due to promotions, transfers, or structural adjustments. 
Monitoring alterations in job titles, new hires, and executive appointments allows for timely awareness of key personnel transitions in decision-making positions. 
Pro Tip: Set up Google Alerts for the company and industry to receive real-time updates on relevant news.
How do we target the identified decision-makers for better outreach?
1. Direct engagement
The core of any successful sales process is fostering genuine communication and relationships with potential clients. 
Initiate direct outreach to decision-makers to establish a conversation that resonates.
Engage through the following channels:
Email:

 Craft personalized and compelling emails that resonate with pain points and aspirations.

Sales Calls:

 Leverage direct conversations' power, articulating your value proposition.

LinkedIn Messaging:

 Utilize the professional platform to connect with decision-makers and initiate conversations.
2. Strategic B2B marketing
Recognize that many stakeholders actively seek solutions online. However, merely having a web presence won't suffice. 
A robust marketing strategy is essential to ensure your content is discoverable.
Develop a content marketing plan following these principles:
Address Pain Points:

 Craft content that addresses target individuals' pain points and provides viable solutions.

Keyword Integration:

 Identify keywords and phrases that mirror your target search queries, enhancing content discoverability.

SEO:

Tailor content to be SEO-optimized, positioning it for higher visibility on search engine rankings.
3. Reach out with the help of gatekeepers
Large companies often have gatekeepers as protective shields for business owners, CEOs, and other key stakeholders. Gatekeepers could be an assistant, secretary, or junior manager. 
Forge a genuine connection with these gatekeepers and pose your qualifying questions. 
This will pave the way to craft a pitch that aligns perfectly with the preferences of their superiors.
4. Find common connections
Decision-makers receive a barrage of pitches regularly. To rise above the noise, utilize common connections to initiate an authentic conversation. 
Whether it's shared contacts on professional platforms like LinkedIn or existing clients with shared educational or professional backgrounds, leveraging these mutual connections gives you an organic advantage.
5. Craft a compelling story
Incorporate storytelling into your pitch to captivate the decision-maker's attention. 
Human brains are wired to remember stories, so construct a narrative around how your product or service has positively impacted similar companies. 
Share anecdotes, real-world examples, or case studies that illustrate the transformative potential you bring. A well-told story engages and helps decision-makers envision the value you can provide.
6. Segmented personalization
Go beyond generic personalization by segmenting your pitches based on industry-specific challenges or pain points. 
This level of customization demonstrates your dedication to understanding their unique needs and positions you as a valuable partner. 
Tailoring your approach for different industries or company sizes can significantly boost the effectiveness of your pitch.
7. Lead with value propositions
In a business landscape saturated with pitches flooding the inboxes and voicemails of decision-makers, adopting a strategy that highlights value can be a transformative approach. 
Structure your pitch to immediately emphasize your distinctive selling proposition and secure your target audience's swift buy-in.
Final thoughts
Having an unstructured and scattered B2B list serves no purpose. Effective outreach begins with accurate, up-to-date, verified, and validated lists. 
When it appears challenging in-house, partnering with a reputable B2B list-building service provider can equip you with curated and enriched contact information lists. 
Follow the practices outlined in this article to channel your outreach efforts to the right person with the authority to make important decisions within your target company and increase your chances of conversion.
More Resources:

Vijay Kumar is a digital marketing expert and founder of TechZant.
He is passionate about helping businesses grow their online presence through SEO and data-driven strategies.