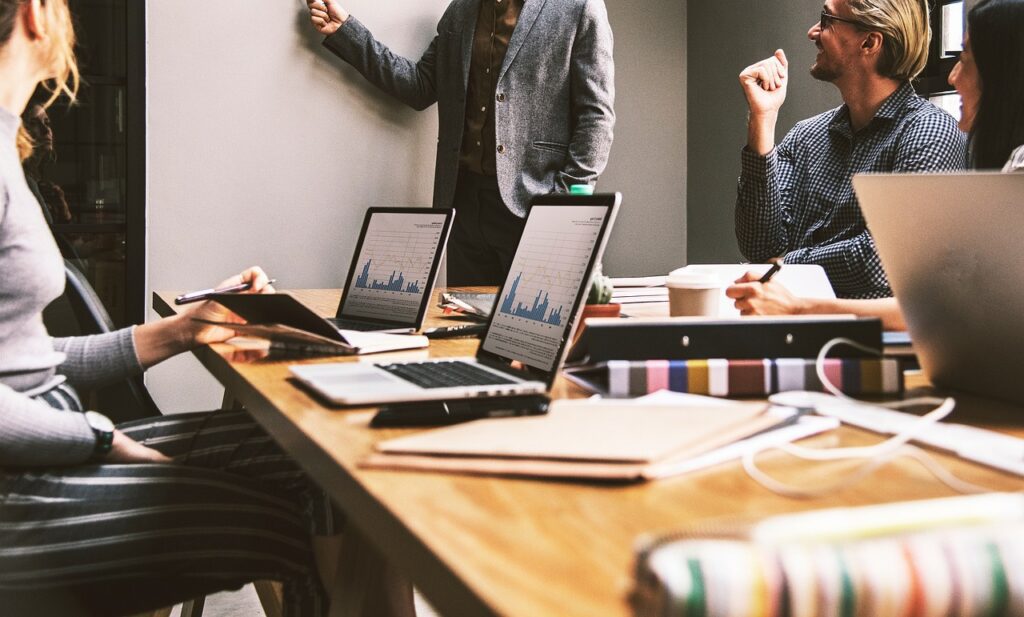 Introduction to B2B Lead Generation
Many companies need help with sales leads despite having a stellar product. More than having a stellar product is required; your sales team will need a solid lead-generation strategy to find potential customers. The actual problem for most businesses is generating leads in the first place. Hubspot found that 61% of sales professionals think lead generation is their biggest challenge. A good B2B lead generation strategy enhances sales by providing prospects inclined to buy your product.
This article will tell you what B2B lead generation is and how you can beef up your lead generation game to stand out.
What is a B2B Lead?
B2B stands for business-to-business and refers to a form of transaction that occurs between two businesses.
B2B leads are those persons identified as possible customers for your company who can benefit by using your product or service.
The B2B sales staff finds these leads and then persuades them that what your company offers is the ideal solution to their problems. 
Types of B2B leads
1. Warm and Cold leads
Warm leads are more likely to initiate contact with your firm since they are familiar with it and have already recognized their needs. They require little convincing.
Cold leads are unfamiliar with your company and require good statements.
2. IQL
IQL is an acronym that stands for Information Qualified Lead. Such leads share their contact details in exchange for helpful information.
This potential client is in the early stages of their research on your firm and is unfamiliar with it or the solutions you offer.
3. MQL
MQL, a marketing-qualified lead, is a potential customer examined by the marketing team and meets the criteria to be passed to the sales team.
They want to learn more about your company by talking to your representative.
4. SRL
An SRL is a sales-ready MQL that has been passed on to the sales team. They have met the criteria set by your firm.
They are eager to speak with a salesperson at your firm about possibly doing business with you.
5. SQL
SQL, sales-qualified leads is a prospective customer who has advanced through the sales funnel. The sales department can focus on converting them into actual customers.
6. MSR
The member service request lead consists of consumer-generated leads from new users who have just joined the subscription service.
They can be valuable because they allow you to communicate with them immediately.
7. Inbound and Outbound
Inbound leads are those where your prospects start the conversation and agree to receive marketing materials from you.
For example, someone may come across your company on social media and decide to contact you.
Outbound leads are potential customers who need to be aware of your service. 
How is B2B Lead Generation Conducted?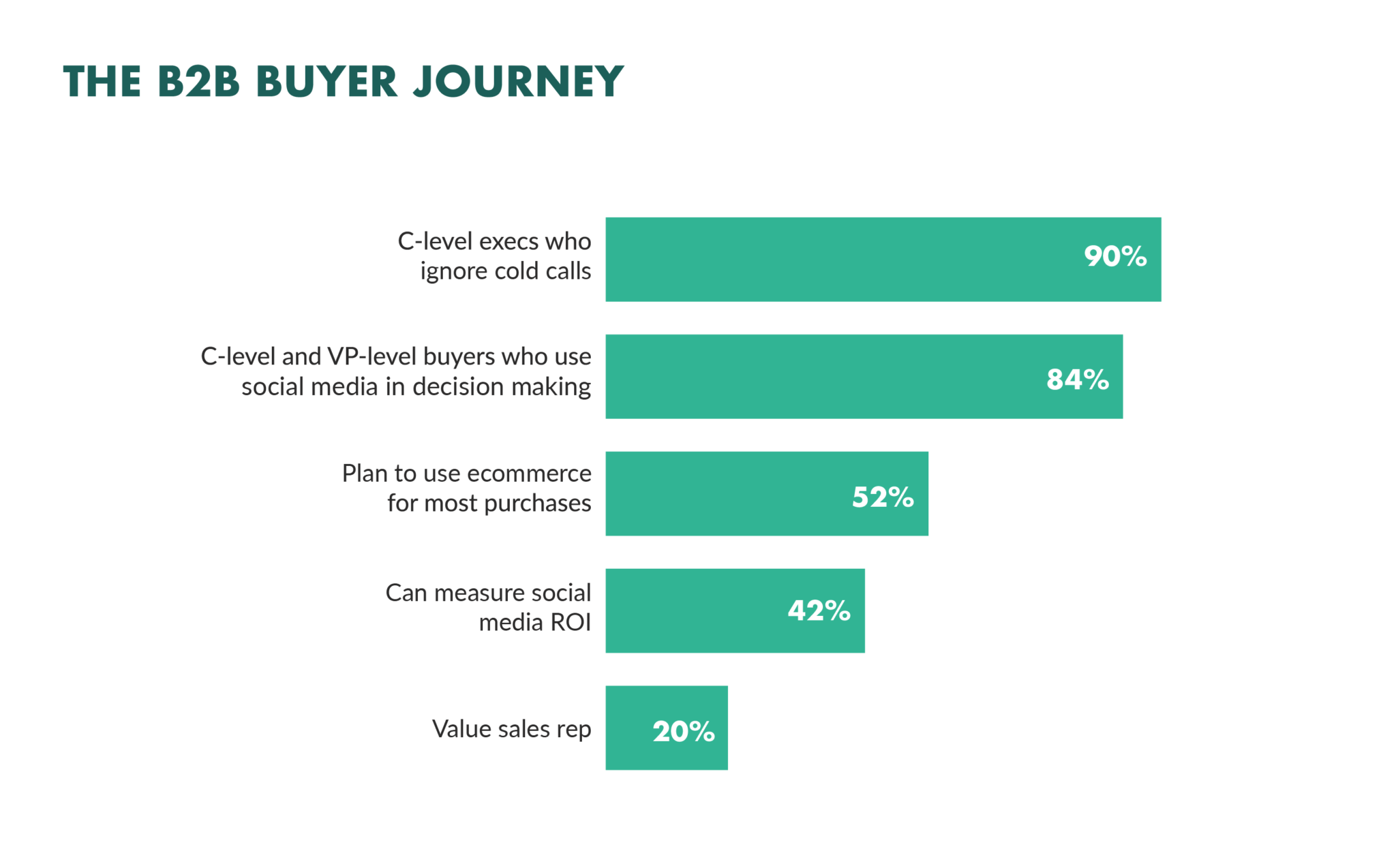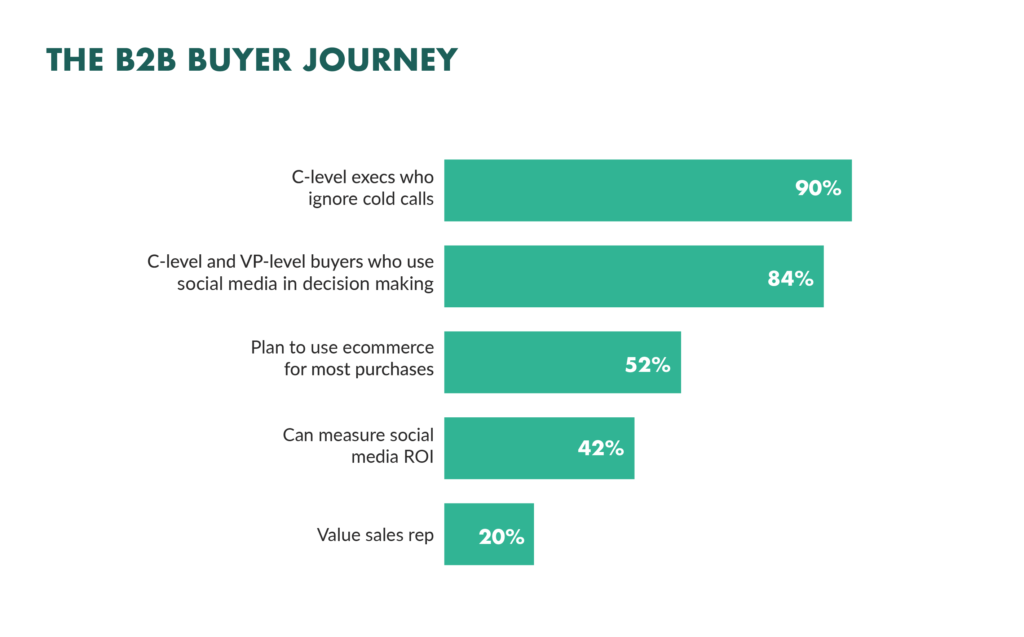 Source: superoffice.com
Several essential sales and marketing activities and steps are involved through which B2B lead generation is conducted.
Let's discuss the most common ones. 
1. Cold calling
Sales Development Representatives typically call B2B potential leads on the phone. The SRDs describe the advantages of their service or product.
They investigate the Lead, and if it appears promising, the SRDs classify it for future engagement. 
2. Outbound email
During this procedure, the Sales team emails the B2B lead. Outbound emails are often managed via email to initiate a conversation with a possible client.
3. Social Selling
The sales staff monitors the B2B lead on social media. They interact with them and build relationships with them through time. 
4. Sales Cadences
It includes all ways to generate or hunt leads. A sales cadence is a series of engagements with a prospect hoping to establish a relationship for sale.
It is commonly described as a timeline that sales and marketing teams collaborate on to coordinate over multiple channels (such as email, phone, social media, and direct mail).
Why Is B2B Lead Generation Important?
If you own a business, you want it to grow and expand so that you may profit more. To do so, you must reach out to an increasing number of potential clients.
A good B2B lead generation strategy makes reaching out to potential buyers easier.
B2B lead generation is vital to sales development since it helps develop and convert product demand. Moreover, it builds awareness of your brand and increases your sales opportunity.  
B2B Lead Generation Companies
Some companies assist you in finding leads. These firms first examine your business and the aspects that may influence your company's B2B sales and marketing.
After conducting research, they formulate the best strategy for outreach based on your target population.
Among the leading B2B strategy development companies, Qualtrics, Docusign, and LegalZoom are on the top.
B2B Lead Generation Services
Lead generation firms can help you reach your business to more and more people. Some of the primary services you can expect from these companies are 
Creating business-to-business contact databases

Account-based management Database management CRM integration

Campaigns for personalized marketing

Your sales staff will benefit from sales enablement software

Making appointments

Look for a company that can customize its services to your specific requirements or specializes in your industry.
Top Social Media Platforms for B2B Marketers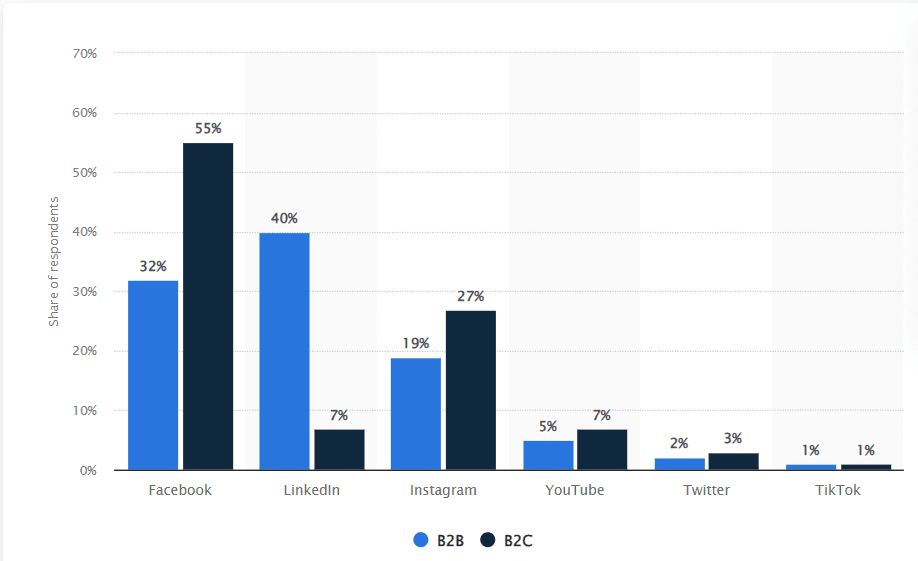 Source: statista.com
According to International Data Corporation (IDC), 75% of B2B buyers purchase via social media. That is why B2B marketing executives allocate more funds to social media. 
1. LinkedIn
LinkedIn enables business owners in any industry to promote their products or services to over 690 million users. It lets them quickly access their target audience via an extensive social network. 
B2B companies use LinkedIn Ads to develop leads and increase website visitors. They share valuable content about their companies there and hunt potential leads. 
2. Facebook
Facebook is the most popular social networking platform, with 2.9 billion monthly active users. Billion people use Facebook to interact with businesses.
You can share case studies, how-to manuals, videos, and other long-form content on Facebook. 
You may also use hashtags to make your posts more accessible. Also, you can target a specific audience by using Facebook ads. 
3. Twitter
With 450 million active monthly users, Twitter is another popular and effective channel for expanding your brand and generating new prospects.
Twitter can help you reach a larger audience by letting you use relevant hashtags. 
Twitter Lists can help you segment and target your audience efficiently. It allows you to create Ads to drive visitors to your website or landing pages, and you can track your performance using Twitter Analytics.
4. Instagram
With 2 billion monthly active users, Instagram is a formidable business platform. Brands use Instagram as an influential marketing tool to target, reach, and engage prospects. 
You can use Instagram influencers, share your product videos, and tag renowned Instagrammers in your videos to reach many people.
5. YouTube
With over 2 billion monthly active users, YouTube is a B2B brand's favorite platform to reach and engage its target audience.
By making promotional videos of their brand on YouTube, B2B companies can connect with their target audience, create trust, and generate leads.
They can create intriguing thumbnails that drive clicks and promote their videos on various web platforms.
20 Strategies That Work
1. Appealing Landing Page
A landing page is your brand's first introduction to leads. A page developed exclusively for your audience to have your brand's exclusive information boosts sales lead generation significantly.
Numerous templates are available online to create a product and service landing page. Keep it short and to the point, and easy to navigate.
2. Adding Chat Bots to Your Webpage
When you are drawn to a product on a website, you send them a message requesting specific information about it. You wait a few seconds for a response; when you don't, you move on to another page.
That is why it is critical to reply to fresh leads within 3 to 5 minutes.
Chabot gives a quick and easy way for Online B2B enterprises to communicate with their target consumers. Successful B2B organizations increasingly turn to Chabot virtual assistants to tackle simple tasks.
3. Optimizing Content for SEO
SEO has the potential to increase the value of any content significantly. SEO can also be helpful for B2B. The best method to accomplish this is to publish SEO-rich blogs about your brand.
Include relevant keywords in URLs, link to authoritative sites, provide appealing Meta descriptions and improve title tags.
4. Use of Social Media
Since millions of people use social media, it can help you capture the attention of potential clients. You can also have a dedicated sales team to communicate with your social media leads.
LinkedIn, Twitter, Instagram, YouTube, and Facebook are the most prominent social media platforms used by B2B businesses to attract potential leads.
5. Hosting Webinars
Webinars offer B2B firms an unparalleled opportunity to educate, communicate with clients, and position themselves as industry experts.
The necessity for B2B marketers to use webinars in their marketing strategy will be even more significant in 2023 and the coming years.
6. Customer Review
Allowing customers to leave reviews will let you hear their thoughts on the products and let you know where you can improve. It also provides fresh leads with information about your products and can pique their interest in your company.
Before buying a product, 93% of consumers believe they should check online reviews. So focus on your brand and get good reviews.
7. Q&A Sessions
There are websites such as Quora that host Q&A sessions on business. It's an excellent place for B2B companies to know people's perspectives.
B2B marketers and salespeople can join such forums to generate sales leads, identify questions related to their sector and relevant to their company's focus, and react to them authoritatively.
8. Sales Process Automation
By automating the sales process, your sales force can concentrate on completing deals and converting more leads into customers.
You can use automation to schedule calls and meetings, build a list of tips, create lead prioritization, and filter lead information.
9. Using Influencers
Influencer marketing is a new approach to finding potential leads. It is a collaboration with Influencers to promote your brand.
B2B marketers can discover influences with considerable followings, use their services to generate website traffic, grow their social media following, and increase sales of freshly released items.
10. Email Marketing Campaign
Email Marketing is among the most potent lead-generation tactics successful B2B companies use. Landing personalized emails with dynamic information in the inboxes of your potential consumers will do great things for your company.
With email marketing, you may build a subscriber list, personalize your communications, and engage with inactive consumers.
11. Publish Case Studies
Case studies are essential to any content marketing plan.B2B buyers are analytical and risk-action decision-makers. Buyers typically require the assurance of Returns on investment before making a purchase.
Many buyers recognize that case studies are now sales enablement content for the middle-to-end stages of the lead-generating process.
12. Referral Marketing Strategy
Referral marketing is one of the oldest yet most effective marketing strategies. When your clients start promoting your products or services in their circle, you know you're on to something excellent.
You can create a campaign on your website. 
For example, you could gift anyone using your referral link to purchase.
13. Paid Ads
Paid advertisements are an excellent strategy for B2B businesses to boost organic website traffic. You can run these advertisements on social media networks.
B2B companies create advertisements and refine their demographic filters to ensure that they reach their target audience.
14. Lead Generation Tools
Numerous lead-generating tools and software are available that can assist you in creating exciting and high-tech popups for your website.
Furthermore, by studying customer behavior, they help you in driving your marketing initiatives in real time.
You can enhance business growth and increase sales leads using in-depth analytics and simple A/B testing options.
15. Using LinkedIn
While social media sites are typically excellent places to create leads, LinkedIn Sales Navigator is beneficial for investigating decision-makers. LinkedIn is used by 89% of B2B marketers for lead creation, and 62% claim it generates leads.
You can make your company profile and post quality content. 
16. Active Webpage
A slow landing page can redirect consumers to other business pages, so ensure it is active and loads quickly. Your website's effectiveness might determine your business's success in generating leads.
Make sure your website is mobile-friendly, easy to navigate, and user-friendly.
17. Outbound Lead Generation 
An outbound lead is a B2B prospect that has agreed to speak with your sales team after being solicited through an outbound channel, such as a cold email or cold call.
Outbound marketing aids in the production of B2B sales leads more quickly. 
18. Host Conferences and Expos
Expos and trade exhibitions are excellent ways to generate interest in your products. The best platforms for generating B2B leads for B2B marketers. 
You can attend these expos so your sales and marketing teams can present their products, actively interact with people, exchange contacts, capture leads, and follow up with them immediately after the event.
19. Lead Magnet
A lead magnet is a business term that refers to a free item or service offered in return for contact details. These giveaways can include sample products, complimentary subscriptions, newsletters, or your best-selling items.
These particular bits of content or things serve as an incentive for leads to provide helpful information. 
20. Conduct Surveys
Carrying out a market survey lets you know about your leads' preferences. So you can use their responses to pique their interest. These surveys can be conducted by B2B enterprises using social media platforms.
You can announce a discount for those who participate in the surveys.
Conclusion
Bringing potential leads to the table can be challenging for many businesses. Even more challenging than beating out the competition and closing deals.
But if you use the tactics we share, we are confident you will be able to reach your target audience.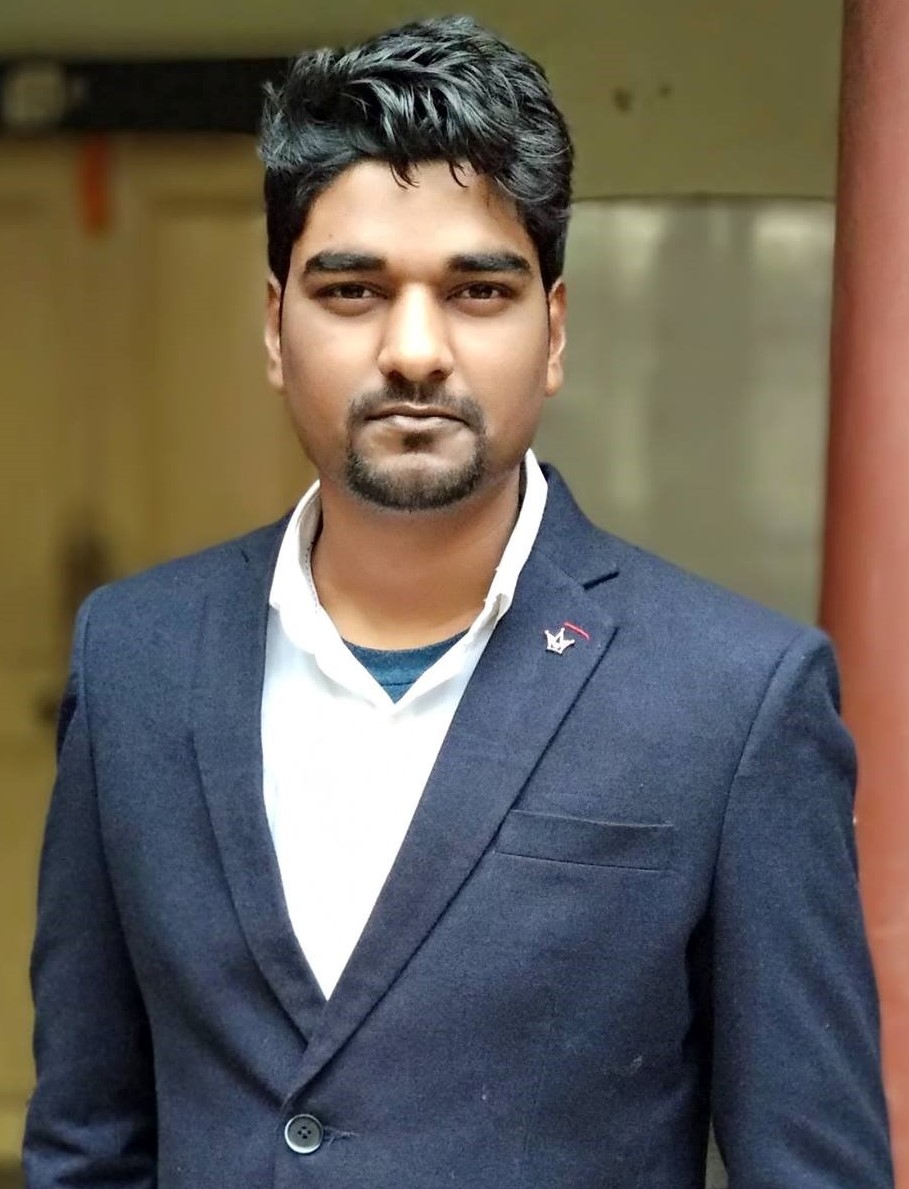 Vijay Kumar is a digital marketing expert and founder of TechZant.
He is passionate about helping businesses grow their online presence through SEO and data-driven strategies.