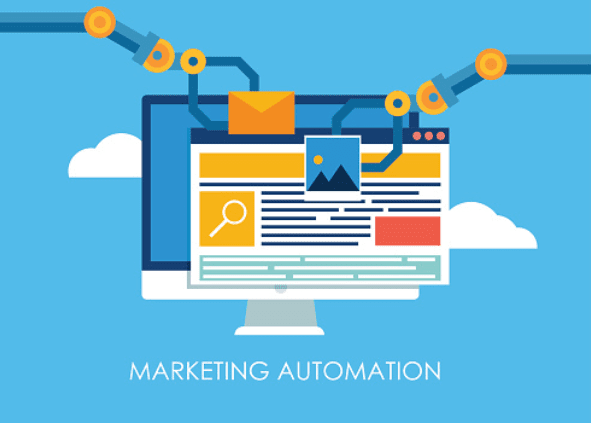 Introduction
Thanks to AI and social media targeted advancements, marketing technology has advanced drastically over the past years. Even the primary and oldest staples, such as email marketing, continue to evolve. Marketing automation software is critical in growing sales and building brands with more value.
With time, the evolution continues to add more complexity and nuance to marketing strategies.
New avenues and automation software keep opening, making it hard for companies to choose the best messaging route to reach their customers. Develop client relationships, and ensure loyalty in those connections once formed.
Automation is no longer a luxury. Every company, even department, requires it for lean and efficient working. Are you looking to brush up on your marketing solution? Or think it is the right time to automate your marketing department?
Then read the top 5 marketing automation software.
What is Marketing Automation Software?
Marketing automation software is a tool for automating your digital marketing task and letting you focus on the bigger business goals. Best automation software connects you with your clients.
You are providing a more personalized panel that looks completely natural and unique.
Using these, you can automatically send messages and emails and run online marketing campaigns smoothly. Overall, marketing automation helps to generate new leads. And build customer trust that takes your business to the next level.
5 Best Marketing Automation Software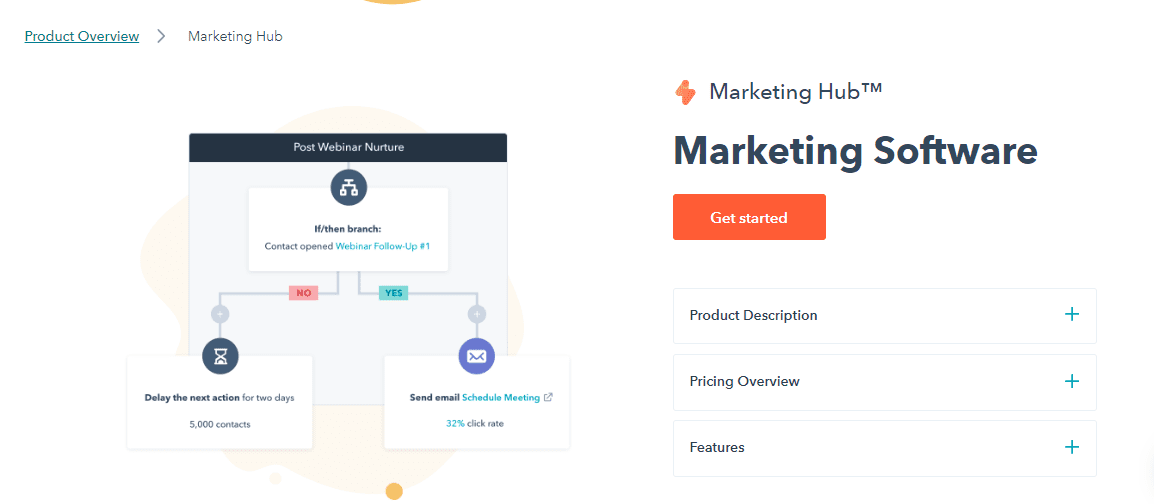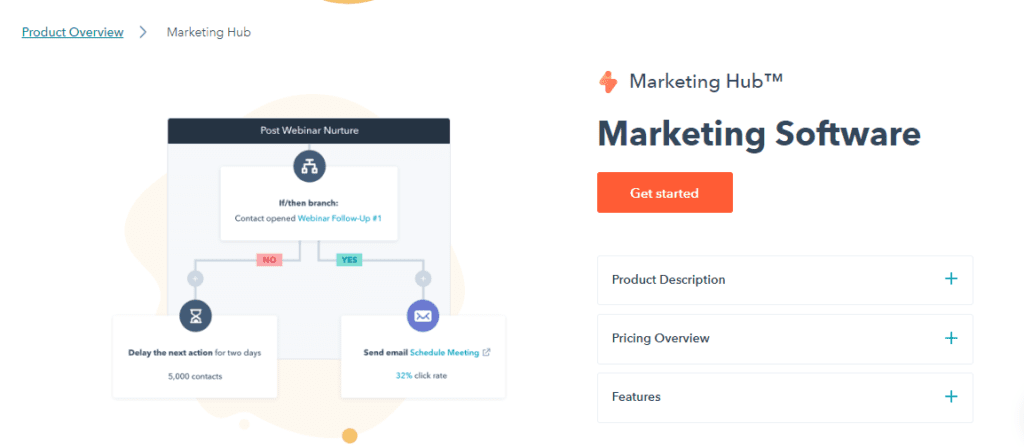 HubSpot is an end-to-end marketing solution perfect for small business websites. With HubSpot, you can plan your marketing campaigns for free and in CRM.
Its marketing hub offers impressive features, including email marketing and set covers sales. And marketing automation with enough flexibility to handle small and large businesses.
What Does HubSpot Marketing Hub Do?
HubSpot is a popular inbound marketing and sales software for automating your business strategy. Get a real-time track of your customer journey with HubSpot's advanced marketing tools.
If stuck somewhere, you can benefit from their powerful resources that connect you with experts.
Keep a follow-up on your marketing campaigns for discounts and offers and track website visitors' behavior. Moreover, you can capture new leads with HubSpot's contact forms and opt-in popups. And easy integrations to use third-party tools.
Key Factors
Personalized and quick follow-ups with potential buyers

Improved lead nurturing and lead management

Live chat and conversational bots

Automated lead scoring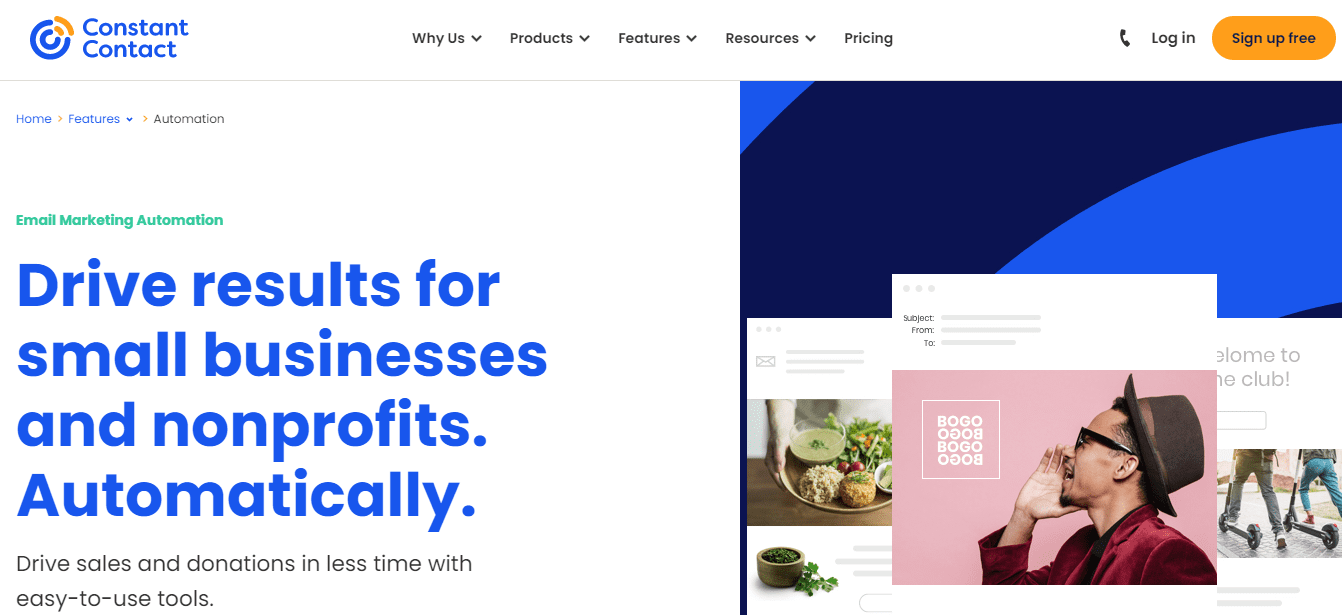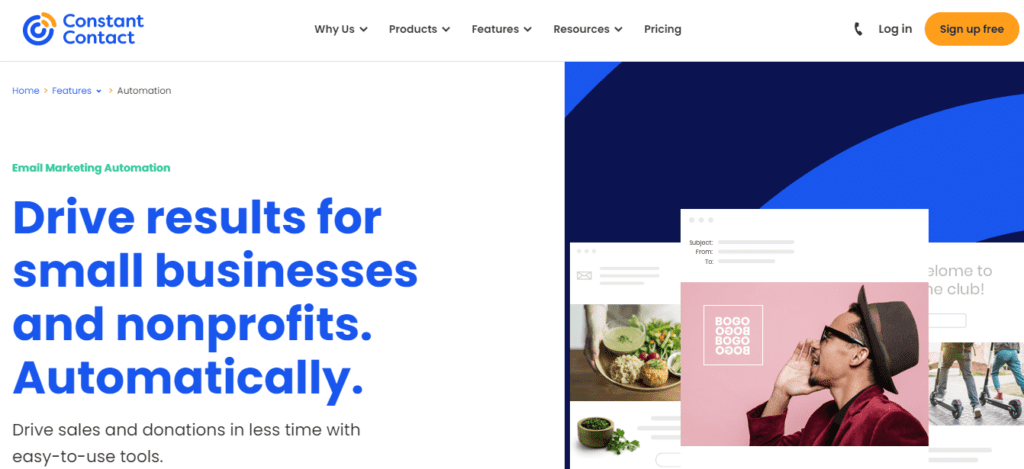 Another automation software, Constant Contact, automates all your email campaigns so that you can focus on your business growth. Following the upcoming marketing trends, Constant Contact can now handle marketing channels such as media buying and social media.
What Does Constant Contact Do?
Constant Contact is a one-stop marketing solution that allows you to build high-converting email campaigns for your subscribers. With its innovative tools, you can grow your email reach.
Design catchy email popups with its drag-and-drop email builder. Or you can use ready templates as well.
Moreover, Constant Contact tracks your user behavior and actions on your website to trigger emails accordingly. And helps you segment your audience to send the right message at the right time.
Key Factors
Automatically triggers emails at the right time 

Customized messaging to users

Track your email results in real-time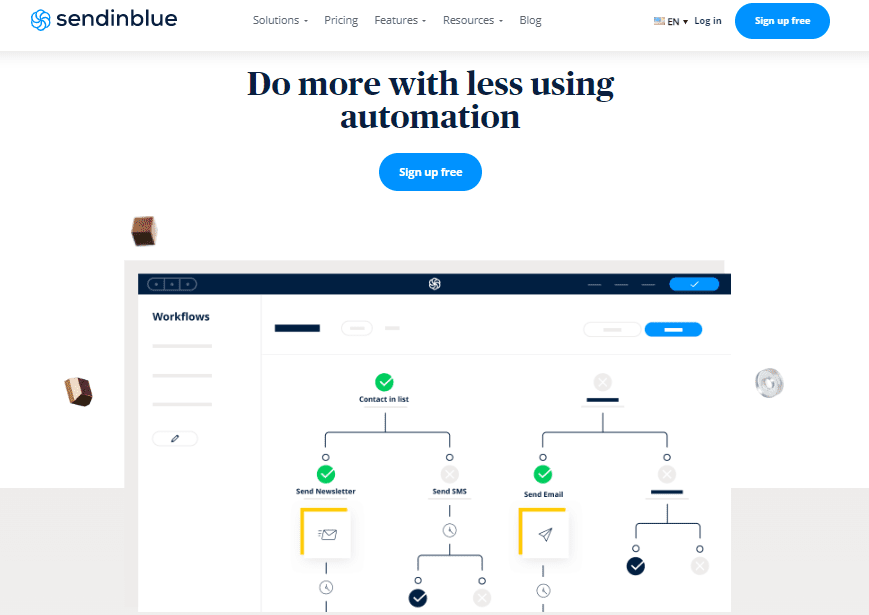 Sendinblue automates your marketing strategy with several digital marketing tools to engage your audience. Plan marketing campaigns, and generate leads quickly.
With time, SendinBlue continues to evolve from email marketing to a more comprehensive platform where one can find built-in CRM functionality for end-to-end solution providers.
What Does Sendinblue Do?
Sendinblue features a great set of tools for accessible communication with the customer, including SMS, email, ads, landing page templates, and more.
With Sendinblue, you can automatically send targeted messages to your audience without spending even a minute on email marketing. You can deliver transactional emails to your subscriber's inbox.
Key Factors
Direct landing page templates for each campaign separately

Email heatmap improves campaign designs

Time perfection for sending emails with a time algorithm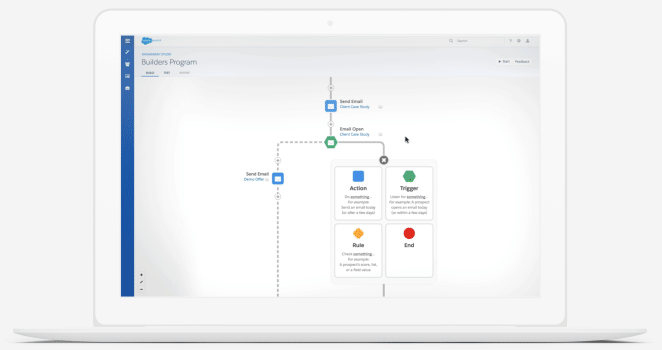 Salesforce Pardot makes an expensive choice yet sets its email marketing and automation standards.
Combining an intuitive design with its advanced features covers AI-powered analytics. And loads of integration options to strike a nice balance between ease of use and broad capabilities.
What Does Pardot by Salesforce Do?
Salesforce Pardot is an all-up marketing automation solution that offers in-depth features, including contact tags, list-building, campaign rules, lead-scoring packages, and other automation capabilities.
Not to forget, it integrates out-of-the-box software like Einstein Analytics and other Salesforce platforms to add an actionable and valuable intelligence (BI) layer quickly and easily.
Overall, Salesforce Pardot is a one-stop solution to all your business problems. Yet, with extensive potential complexity, Salesforce still managed to pull off a design for Pardot that is easy to use. And handle all the analytics and integration modules.
It is much more expensive than other marketing automation software packages. A professional marketer can only know its true worth.
Key Factors
Unlimited automation branching

White glove new user onboarding service

Convenient integration with Salesforce apps such as Einstein Analytics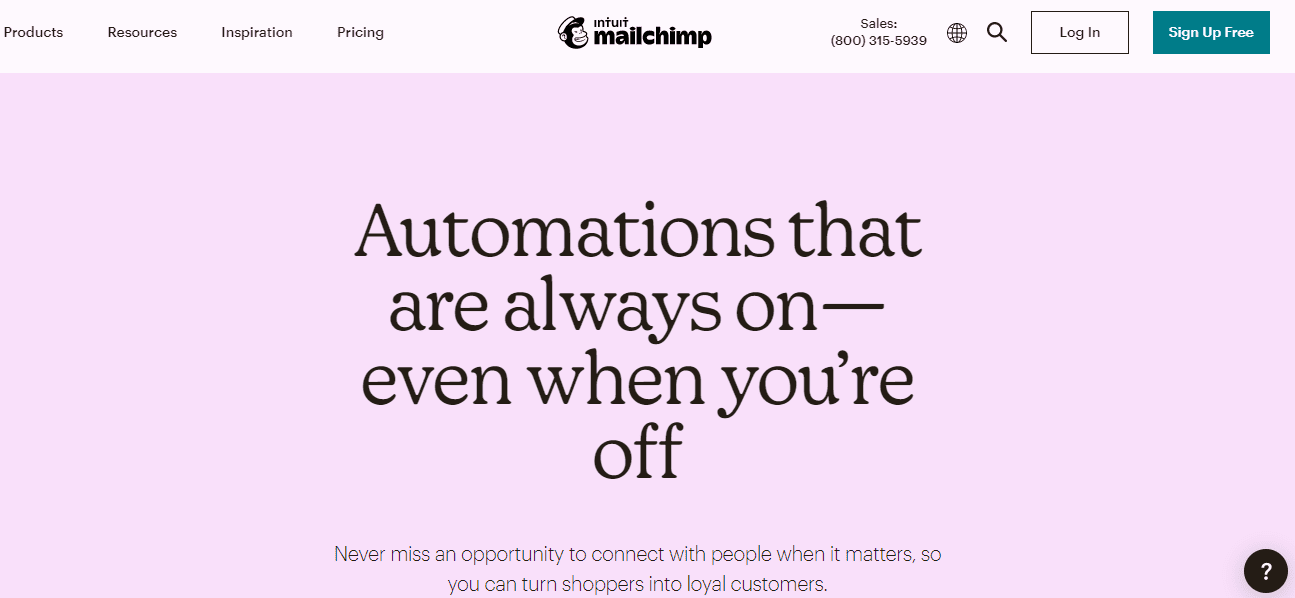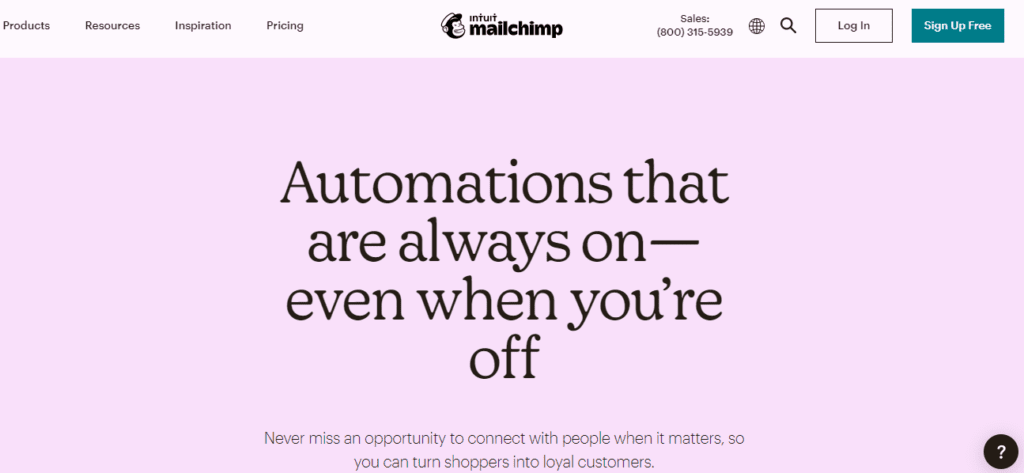 MailChimp, a popular name in the email marketing space for a long time. Continues to expand with recent trends into a multi-channel marketing hub, enabling merchants to create online or e-commerce stores.
What Does Mailchimp Do?
Once only MailChimp was an email marketing tool, it has become a full-fledged digital marketing hub supporting marketing automation and multi-channel campaigns.
In addition, the platform covers all the most popular media of this time, including postcards, Google Ads, social posting, landing pages, integration with Instagram and Facebook, a customizable marketing calendar, and other services.
Key Factors
Full marketing hub

A workable free tier with flexible pricing

E-commerce website plans for revenue-sharing options
Conclusion
If you are starting a new brand or have a small marketing budget, consider free Sendinblue and HubSpot packages.
Big players like B2B marketers will likely find Pardot by Salesforce their right marketing automation software. Social media businesses would prefer to go for MailChimp or Constant Contact.
With more upcoming marketing trends daily, automating these easy repetitive marketing tasks helps human marketers focus on important subjects. Creating relatable content and streaming a better customer experience leads to growing sales. Good luck hunting leads!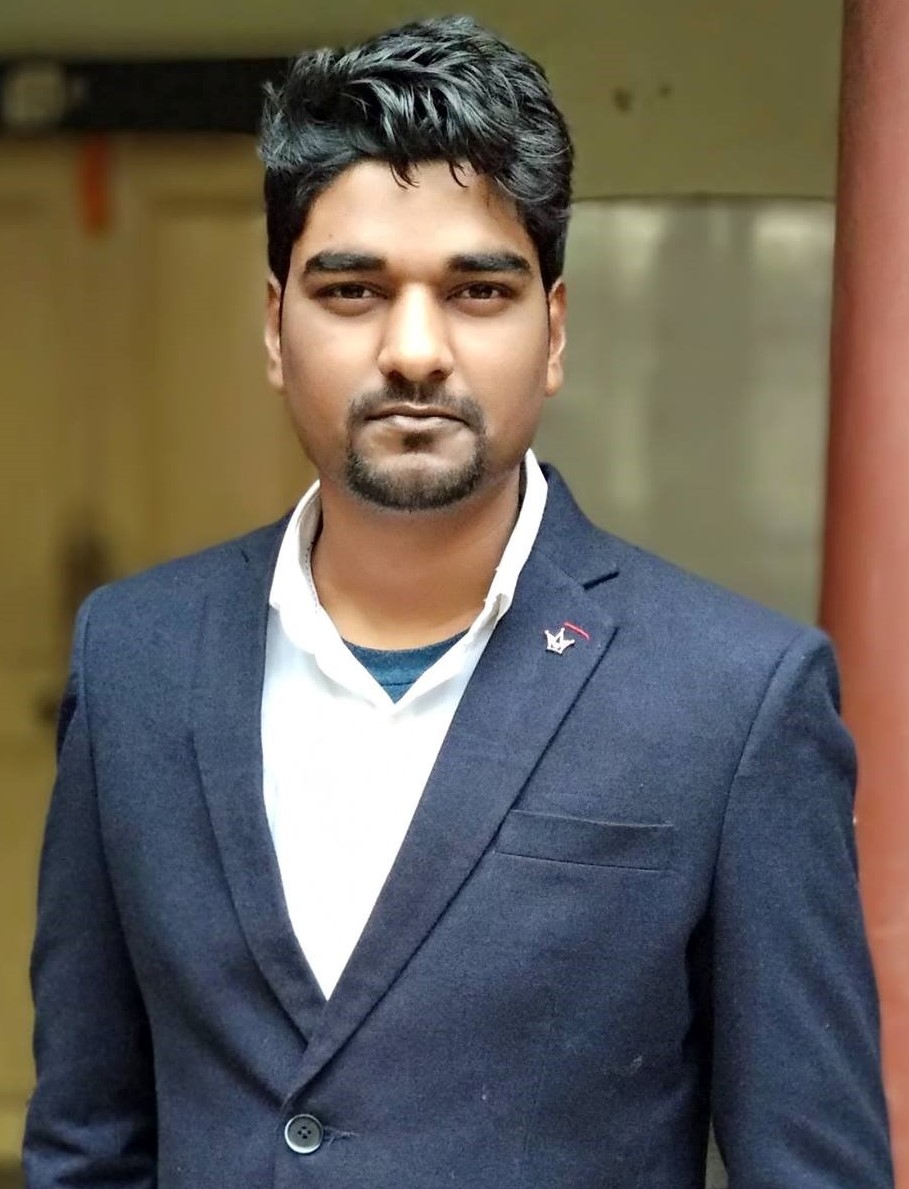 Vijay Kumar is a digital marketing expert and founder of TechZant.
He is passionate about helping businesses grow their online presence through SEO and data-driven strategies.