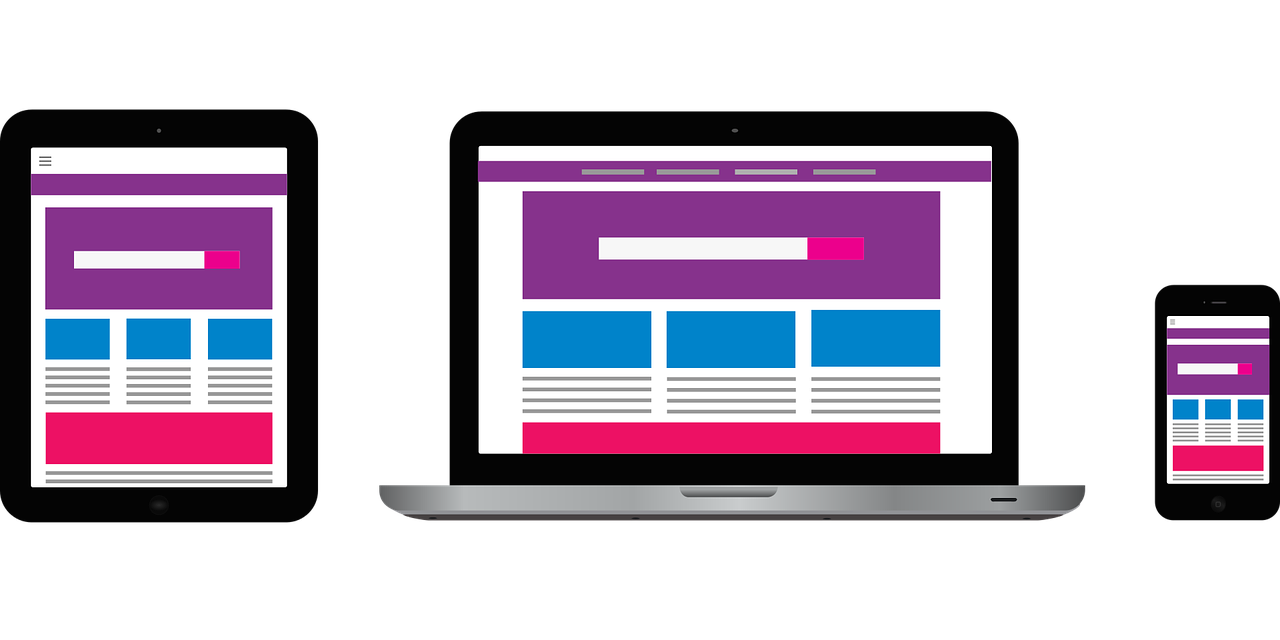 Introduction
So, you have done with your website, promotion, landing page, SEO, and enabled paid search for your website. You are getting tons of visitors from organic search and other sources(I know it sounds like a fairy tale), but you are not seeing any growth in your profit.
Why? Have you made any mistakes, or has your marketing strategy not worked? Not yet. When people visit your site and you are presenting a product and service to offer them, they will see your landing page first.
It is the first impression that will change their decision to be converted. You make it because you want them to take action but do not see results, although you are getting massive visits to your site.
Every marketer doesn't want people to visit their page and leave. They want them to take action.
So, the main reason you don't make any conversions is the landing page, and today we will learn how to make an effective landing page that converts.
What is a landing page?
A landing page is a webpage whose goal is to make the conversion by providing people with a call-to-action (CTA) feature and other options and where people can find helpful information about any product or service.
It can be a homepage or another page of your website.
Many landing pages are not part of any particular website. They are made through some online tools or websites, and you can publish them without having your domain or hosting service.
They are pretty popular with affiliate marketers or PPC campaigns.
You can create landing pages for your website or blog as regular posts. Still, they will differ from your other content posts because they will have CTA buttons, an attractive headline, a brief description of any product or service, attractive pictures, and a design.
You can make it more attractive by including testimonials and social shares. We will look at how to make it attractive later in this post.
What are the best websites for landing page creation?
There are some websites or online tools through which we can design responsive and effective landing pages using drag-and-drop editors.
These websites provide an easy-to-use interface, and you can create any landing page without coding.
They provide custom integration with mailing services to grab the email address of the visitors when they submit their email addresses in an opt-in form.
They come with features like Buttons, Images, Videos, Countdown, HTML, Form, Checkout, and much more. Let's have a look at the best websites for landing page design.
1. Unbounce


Unbounce comes with many features, perfect for building customized landing pages with its elements. One of the best features is dynamic text replacement, which allows users to replace landing page keywords depending on the user's search query, saving tons of time.
Also, it overlays CTAs and exit intent. You can run A/B testing too. It can be integrated with email programs and CRM platforms.
2. Lander


Lander is a cheap but great tool loaded with many features to build effective landing pages. Easy drag-n-drop builder, which helps beginners. It has features like A/B testing, Analytics, Email & CRM integration, and more.
You can try a 14-day trial, which doesn't require a credit card.
3. Landingi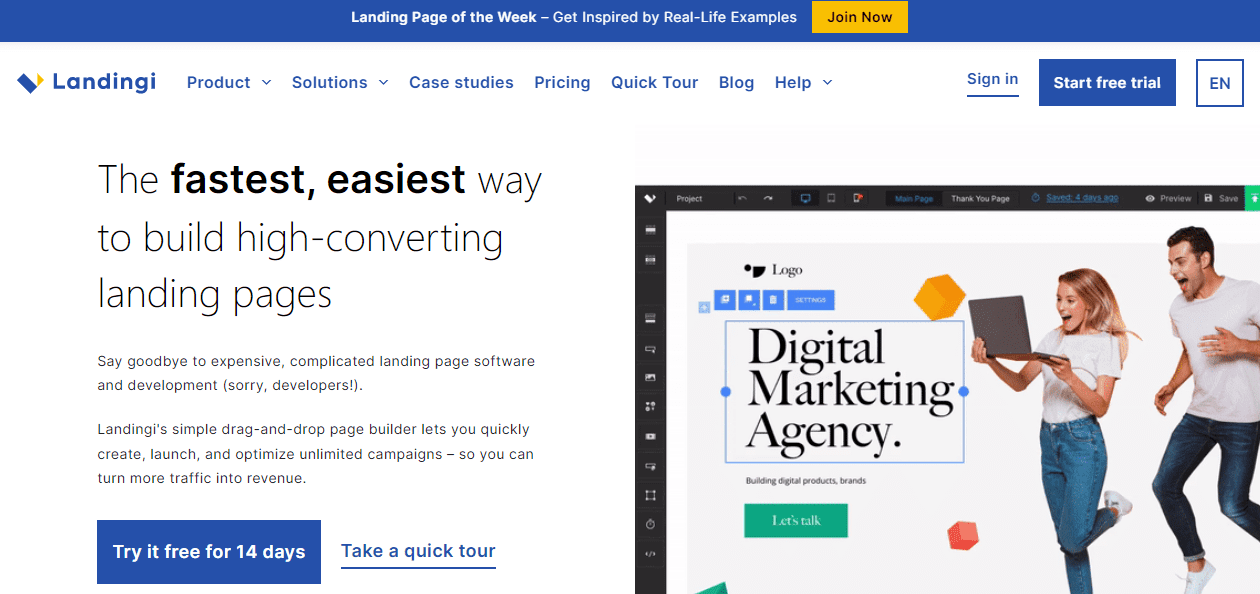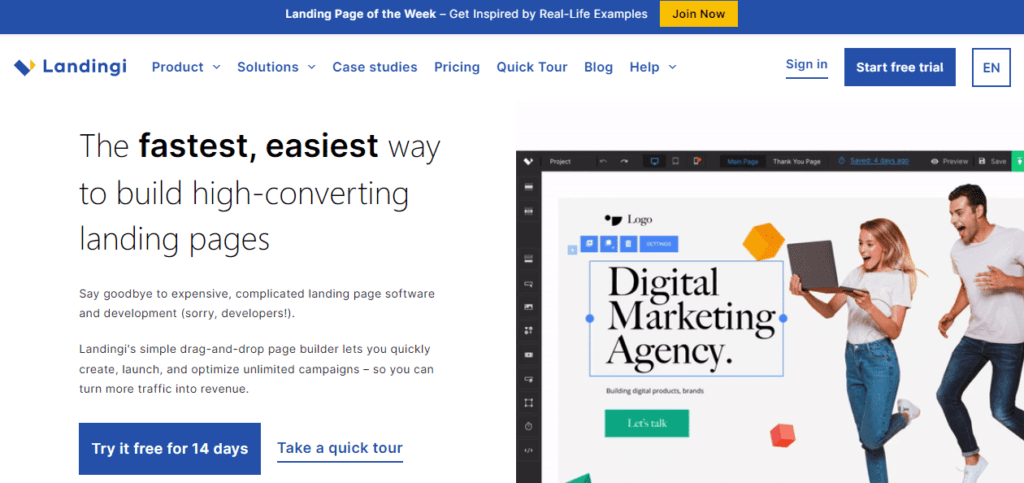 Landingi is very similar to Unbounce, with extra features, and the automation makes this tool easier to use. It saves time and has 100+ templates of all niches and a drag-and-drop interface. It also comes with A/B testing.
4. Leadpages


Leadpages is easy to use and has features like a built-in payment system that can be used to run your store. drag-n-drop functionality, A/B testing, and nearly unlimited integrations.
Also, it has a lead-capture popup and exit intent.
5. Hubspot


HubSpot is not just a website for digital marketers but also provides a landing page creation tool, CRM, and more.
It has A/B testing, SEO and strategy, Facebook lead ads, and is easy to use. It provides customer support for using its service.
6. Wishpond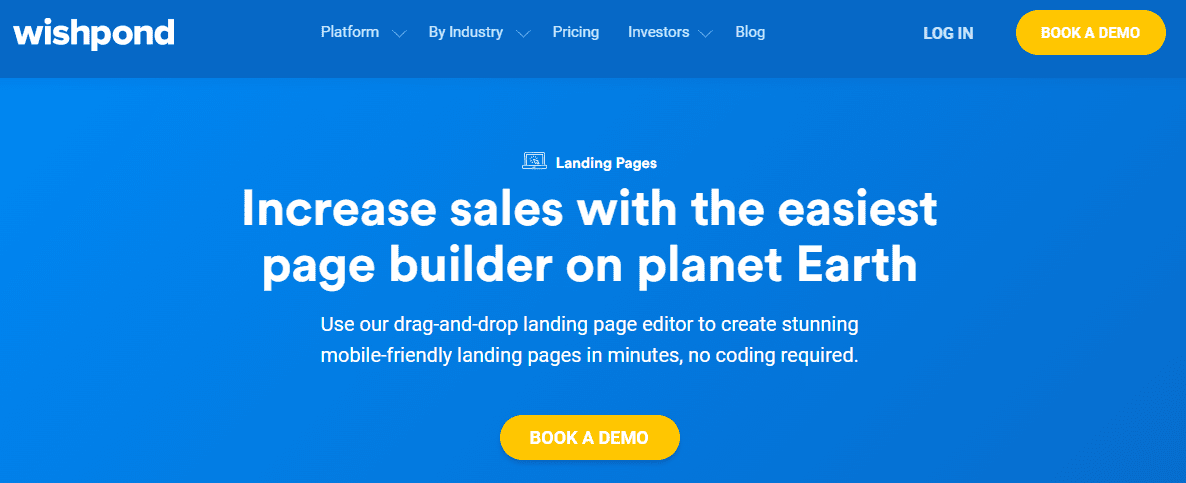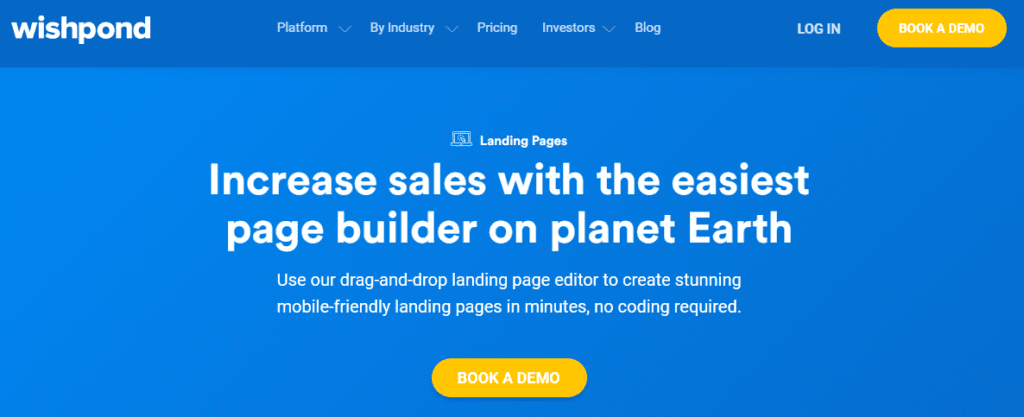 Wishpond is a great landing page builder packed with different features like drag-n-drop builder, User-friendly, Useful elements, Mobile-responsive, A/B testing, pre-designed templates, email marketing integration, lead management, popups, live chat support, etc.
7. ClickFunnels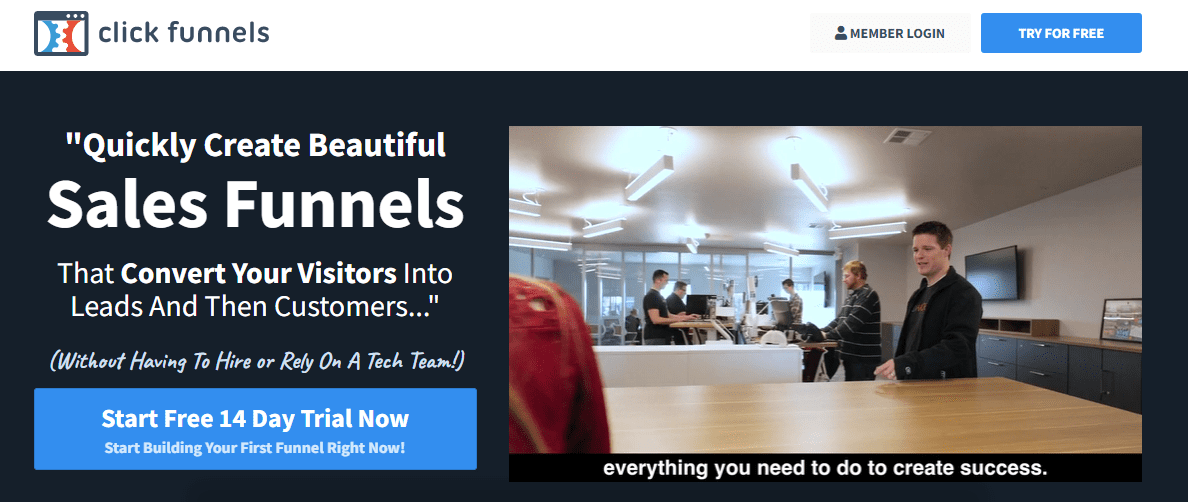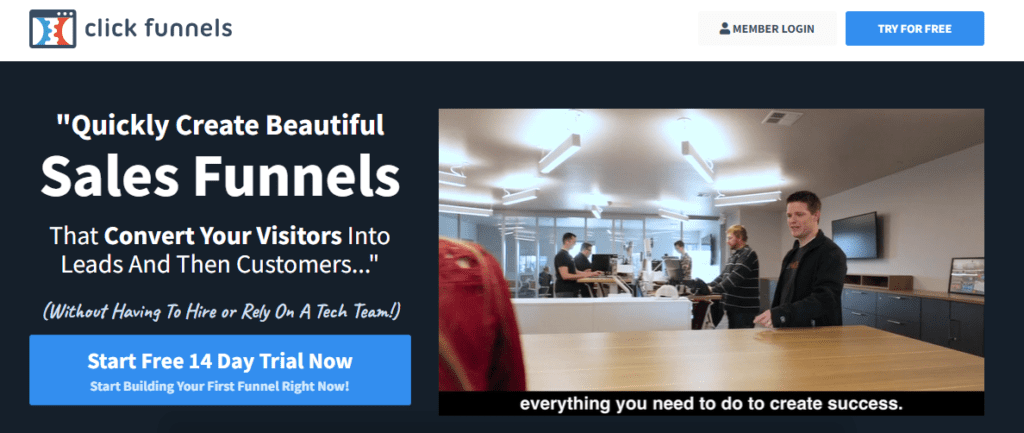 ClickFunnels is much more than that a landing page builder. It allows users to pick a sales funnel designed to sell your products, and you can send traffic to them.
You can sell any products online through ClickFunnels. You must pick a sales funnel, choose a design, and modify a few custom designs, like a logo. It has an easy drag-and-drop editor and a complete marketing funnel package.
It has plugins, and it is easy to add media files and templates.
What are the benefits of a landing page?
There are a few benefits of having a landing page beyond conversions. It is not just a tool for capturing leads or taking action through visitors. It is more than that. Some of the benefits are:
1. Easy to promote upcoming products
You can promote your live products or upcoming products through a landing page. People get attracted to landing pages because it seems attractive and informative, which helps to make a buying decision.
Using this, you can track all your products or just a single product and set your goal.
2. SEO ranking
Landing pages are built so that they can be searched for a particular search term in search engines. A good and optimized landing page helps improve SEO and drive traffic to your products.
3. It makes buying/subscription process easy
People find it easy to buy and subscribe to anything from your landing page. They can check out quickly and opt-in for your services. Visitors don't have to search elsewhere on your site to find CTA, making the overall process easy.
Essentials of landing page
You need to take care of some things to make an effective landing page. Apply some changes and add elements to stand out from the crowd.
Now, check out features that should be included while building a landing page.
1. An attractive headline
The first thing people will notice on your landing page is a headline. The headline shows the topic of the landing page, and it should be an attention seeker.
Your headline will decide whether your visitors want to check the landing page.
Here's what it should be:
Make it short and keep it under ten words.
It should tell what the product or service is all about.
Its size should be H1
Place the headline on light background
2. Subheadings
Subheadings will describe a brief description of your service or product. It should go into slightly more depth of a heading. Please keep it simple and accurate so that users can learn more about the service.
Subheadings should be more minor in size compared to the main headline. Try to include fewer words, and don't tell a long story. It should have some elements of persuasiveness.
3. Explanation
Add an explanation part to your page so that if your visitors cannot understand your offerings, they can get an insight through the explanation.
Your explanation should be benefit-oriented so that it attracts visitors. It can be integrated with your headings or made entirely separate.
Make it straightforward, and its priority should always be clarity. You can rely on pictures to help with your explanation on a landing page.
4. Include images on the landing page
Images grab more attention than words and can help in more conversions. You should add images to your landing page to make it more appealing.
Keep these points in mind while including images:
An image should be large enough.
It should be high-quality and responsive.
The picture should be relevant to your offered product or service. It is very much crucial if you are selling a physical product.
The primary focus of the image should be attention-grabbing and demonstrative.
You can also add screenshots as an image if you are selling any functionality-based products like software. It can help your customers understand how it works.
5. Add a powerful CTA
CTA is the most crucial element in a landing page where visitors can take action. It is the ultimate thing that converts visitors into customers.
Critical points for making a good CTA:
Make it big and bold. The bigger, the better
Use a button instead of text.
Make it compelling by adding explosive and persuasive words.
Use a contrasting color that grabs attention. It should be different from the other colors of your landing page.
6. Contact methods
You can add contact support if you try to promote any product and provide support to your visitors. It helps people to get help and solve their queries before deciding on your product. If you can give good support, then the chances of conversion will increase.
You can add chatbots to resolve visitors' doubts. A chatbot can provide answers as per the knowledge base or FAQ section. If the visitor is unsatisfied with the bot's response, they can be transferred to natural agents.
If your business has a 24×7 chat support system, you must try it. This feature is appealing and much more responsive.
Adding contact methods makes your business trustworthy. Visitors will know that your business exists. Add your email address, phone no., and physical address to your contact section.
Make a contact form where people can fill in their name, email, contact details, and query to make it easy to get in touch.
7. Guarantee
People tend to choose those products or services where they can receive a guarantee. You can add some guarantee terms like a money-back guarantee, no spam guarantee, product guarantee, etc.
Choose a type of guarantee that works for your business and show it on your landing page.
Try to keep it close to the CTA button. It provides a final bit of assurance, and people would likely convert.
8. Include testimonials on the landing page
If your business has a vast user base and wants to show its review, you should add testimonials to your landing page. People believe in testimonials when they read or watch an honest review of any product or service.
They can explain their experience with your product or service and why they prefer to buy it. It quickly helps in understanding its features and pros and cons.
Write their review and add their actual pictures and your customers' names so that people can believe them. You can also include a video review that makes it more accurate and appealing.
Tips for creating a high-converting landing page
1. Consider the best landing page builder
Always make landing pages from the best builder, as they are easy and can make effective landing pages. While there are so many tools available, always choose as per your requirement, goals, and skills.
Landing page builders can help to achieve your conversion goals. After publishing a landing page, you can track your page views, click-through rate, leads, and other metrics.
2. Show social proof
Add social sharing and like buttons to your landing pages like Facebook, Instagram, Pinterest, Twitter, and LinkedIn so that your visitors can know how much your offerings are lovable by others.
You can show your likes, shares, pins, tweets, and subscribers so that people can believe in your services or products. Social media recommendation is a key player and plays a significant role in purchasing decisions.
When visitors see that your landing page has so much visibility on social platforms, they tend to convert.
3. Use a sales pitch video
You can add a sales video to your page to grab attention. It could be a short video. If you want your landing page to be found on YouTube, include a sales video.
If you have a YouTube channel and already have a sales video, then you can embed that video into your page.
It is also helpful from an SEO perspective and can be ranked in search engines. A sales video can describe everything logically and contains the same elements as a landing page.
4. Make things simple
On your landing page, try to keep everything simple. Use clean fonts and colors with proper headings. Remove unwanted elements and design so that people can navigate and convert quickly.
Do not mix colors with text; choose a suitable template or design.
5. Make the landing page mobile-friendly
While most of the users come from mobile, you should make your landing page mobile-friendly, and it should be responsive and load fast.
Slow-loading pages increase bounce rate, and you can lose visitors, and they may never return.
A responsive and mobile-friendly design is also essential for SEO because Google prioritizes mobile responsive pages. Check your landing page loading speed and whether it is mobile-friendly or not.
6. Remove navigation elements
Do not include navigation elements that can take your visitor off-page. It should be in flow and don't distract your visitors, or you can lose a customer.
Here's how to do this:
Start with an explanation
Show benefits
Add testimonials
End with CTA
Conclusion to the landing page
An effective landing page can help to meet your business goal and generate a lot of customers. Build a responsive landing page showing your services and products so that people can find them informative and make a buying decision.
You don't have to be a great designer to make it possible, as many page builders are available, and any beginner can start using it. It can help promote and grow your online business to the next level.