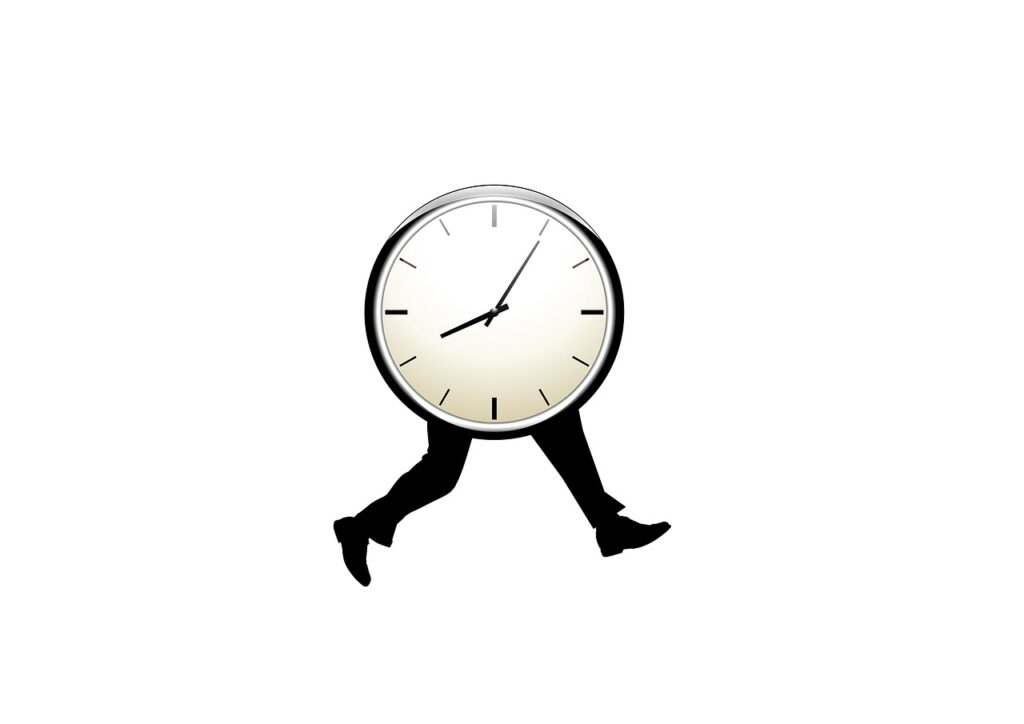 Introduction
The most challenging task you must handle as a team leader or business owner is ensuring your employees' productivity. How do you ensure employee productivity if you work remotely or your company is vast? It makes keeping a check on every employee difficult. Yet your employees' productivity is crucial for your company's success. Time tracking software can track employees' performance and time at work.
Moreover, the software gives a thorough overview of your daily, weekly, monthly, and yearly work, whether alone or in a small team.
Knowing how your employees spend time allows you to examine their work trends and make more informed business decisions.
If you're looking for time tracker software, keep reading the article. We'll discuss which employee time tracker is the finest free tracker software of 2023.
What Does a Time Tracking Software Do?
By this point, it should be obvious what time-tracking software is. Generally, through software, firms measure the time each employee spends on specified activities.
The software also assists companies and managers in monitoring employees' productivity and automating payroll or customer invoicing. 
The software gives you information on the project's progress and its handling.
Not only that but companies and organizations can create timesheets with the software and generate employee performance reports. 
Employee Time Tracking Software
As a firm head or a manager, tracking your employee's time during work hours is very important. Time tracking software enables you to manage employee (in-office/remote) time schedules and attendance information anywhere.
Additionally, a time tracking tool enables you to keep accurate records of staff attendance and working time.
Do you need a time-tracking tool to manage employees in one location while working in another? Remote workers can set their schedules and keep track of their time while working from anywhere in the world.
Real-time data provide you with the ability to spot trends that are impairing the process and come up with solutions. The employee's time tracking software lets you precisely estimate the time employees spend working on projects.
You can find out who contributed to a task or project and how long; you can make employee timesheets and payrolls with the software.
Free Time Tracking Software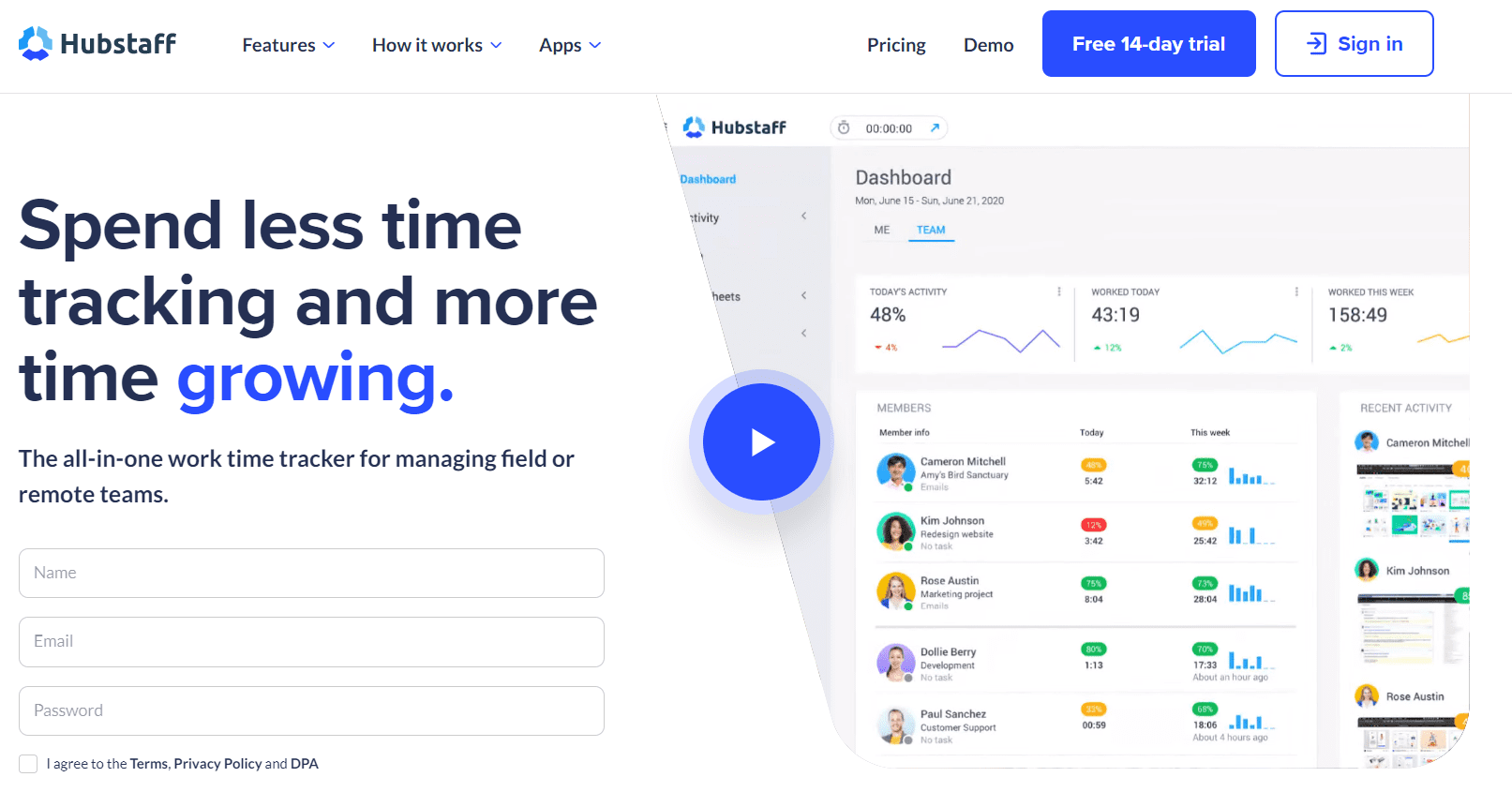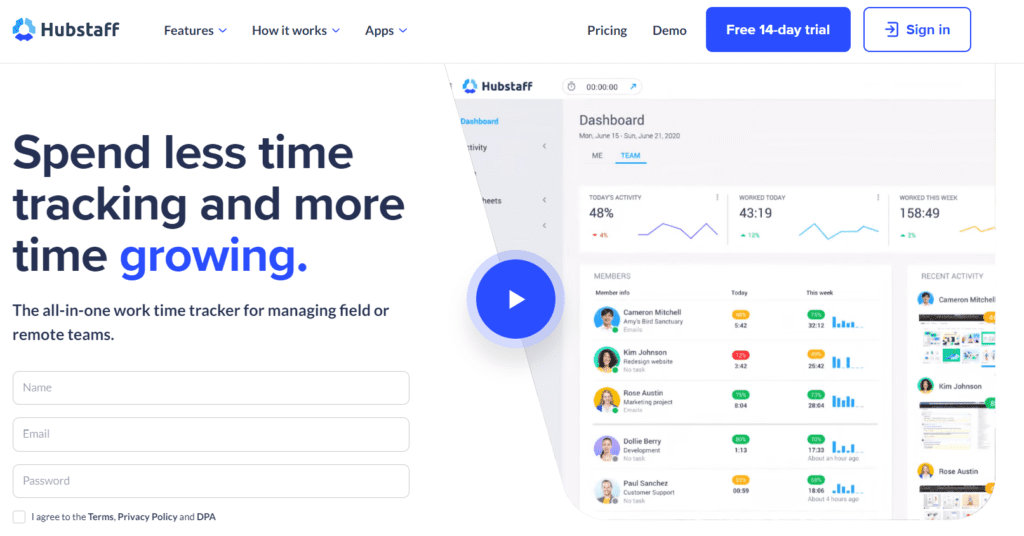 Source: hubstaff.com
Are you looking for a better way to manage employees to boost their productivity? Or, are you building a new competent team as a business company? Hubstaff has everything required to increase your employee's productivity.
This app is made for office, field, and remote employees that require a simple way to manage work progress and hours.
Hubstaff offers incredibly effective, innovative, and reliable task and time management solutions. Any company can monitor the team's time using the tasks module's detailed timesheets, GPS tracking, and project management.
The excellent part about Hubstaff is how user-friendly and comprehensive it is. Hubstaff offers a free primary time and activity tracking plan for solo users, payroll, and more. 
Platforms: Chrome, iOS, Android, Mac
Features
Time tracking software

Online Timesheet

Time Reporting 

Time clock app

Geofence time tracking

Employee monitoring software

GPS location tracking

Employee productivity 

Employee scheduling

Payroll tracking

Invoice tracking

Automated stand-up

Project time tracking
Hubstaff provides an excellent job. Its time tracking, payment management, and employee monitoring features are unique.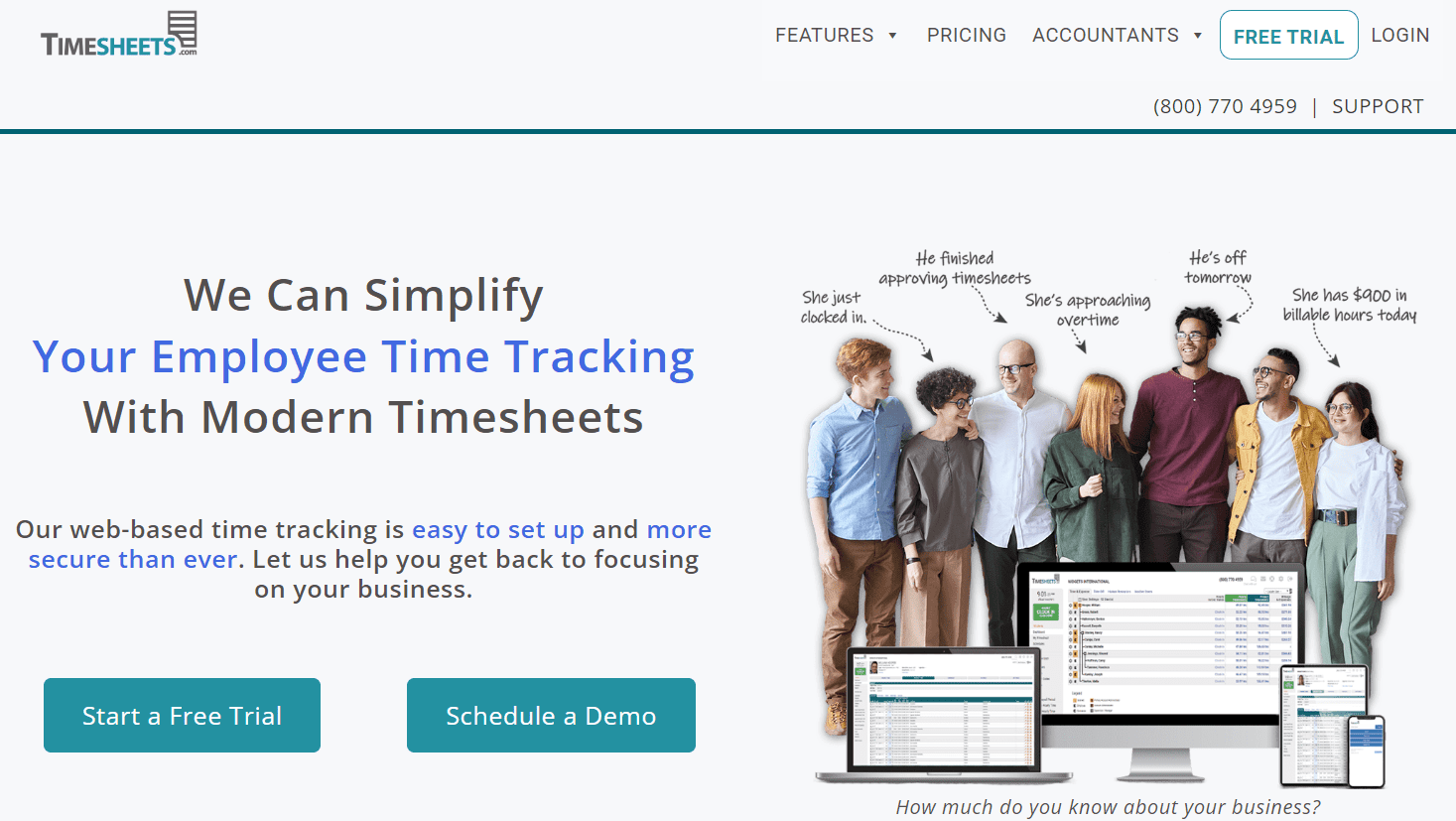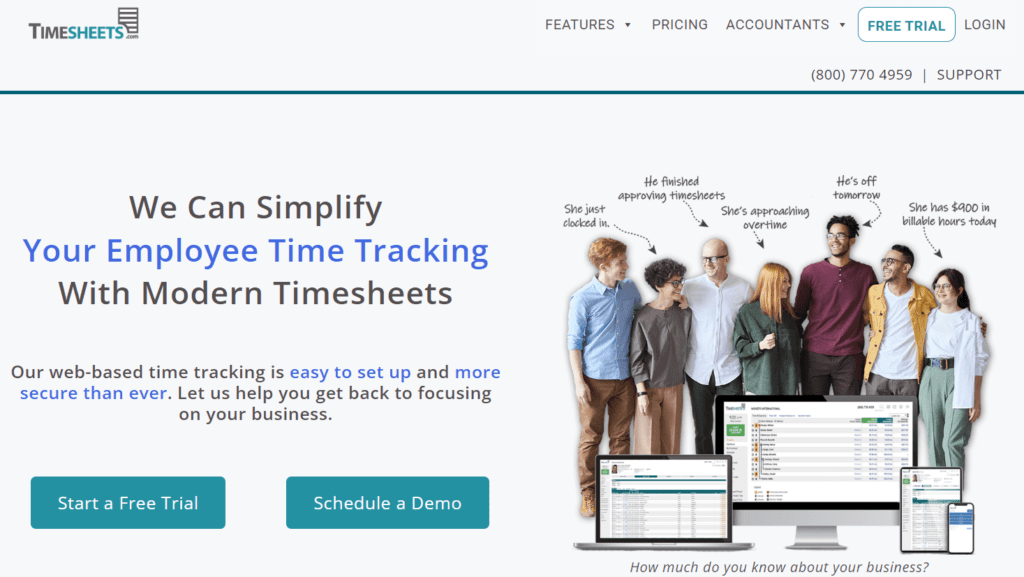 Source: timesheets.com
Do you want to maintain employee work and conveniently track employee time? That is where this app shines. This excellent task management app promises a more effective working method, whether you're a team, student, independent professional, contract worker, or freelancer.
Features like a mobile tracker, reporting, project management, and customizable invoices simplify work.
What advantages does the timesheet tracker have? Timesheets tracker is a fully functioning time tracking tool. It includes an hourly time clock, project time, mileage and cost tracking, and time off/vacation. What's more?
The app has vital HR functions to help manage your staff.
The Timesheets are pretty simple to use. A timesheet tracker can help you become organized, save time, and take charge with less effort. 
Timesheets come with a free basic plan with a ton of valuable features. 
Platforms: Windows, Mac, iOS, and Android devices
Features
Simplified Time Tracking

Effortless Project 

Task Management

Comprehensive Excel & CSV Exports

Automated & Custom Invoice Management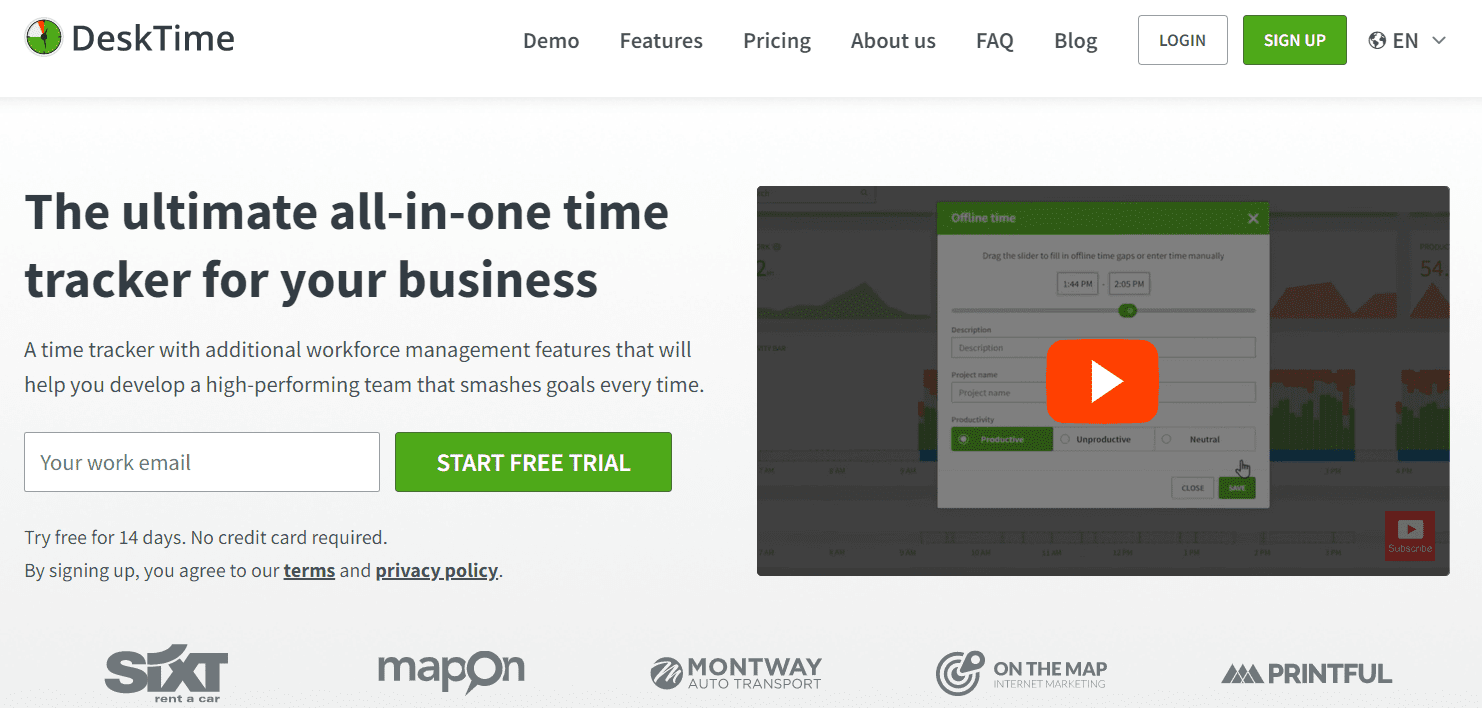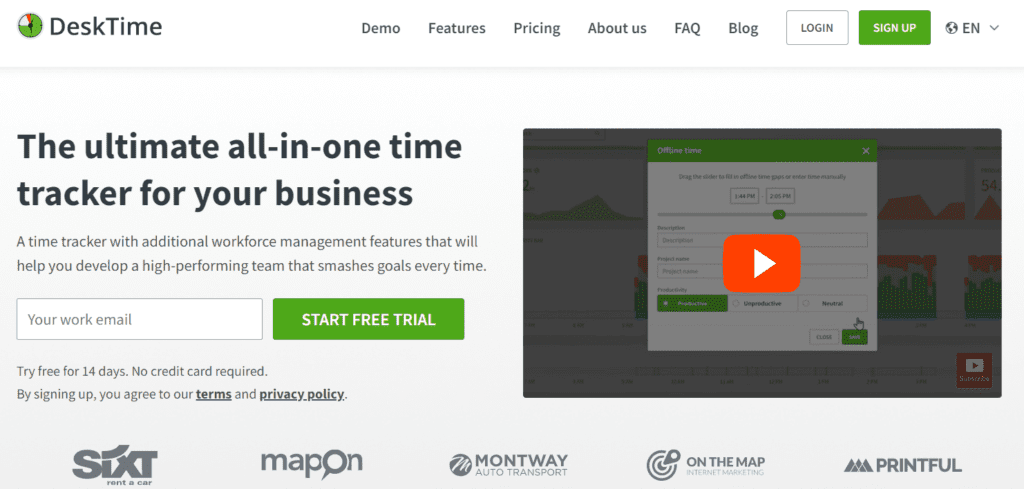 Source: desktime.com
We know certain people prefer to use simple apps. DeskTime is a user-friendly time monitoring program. The app's three distinctive functions are: 
Project management 

Productivity analysis

Personnel monitoring
This software is exceptional because its productivity tracking feature lets managers or supervisors spot team members' ineffective behaviors.
The app assists in classifying websites and programs into Productive and Unproductive categories and then informs users of how much time they spend on each type of page.
It indicates that the time tracking tool does more than just track time; it also uses your classification of URLs, programs, and apps to determine your daily productivity and efficiency.
Therefore, your daily productivity increases as you use effective programs for more time. The DeskTime Lite is available for free. 
Platforms: Mac, Windows, Linux, iOS, Android
Features
Daily productivity timeline.

Detailed visual and downloadable reports.

Auto screenshots.

Pomodoro timer.

Integrations with project management apps.

Absence calendar

Shift Scheduling

Invoicing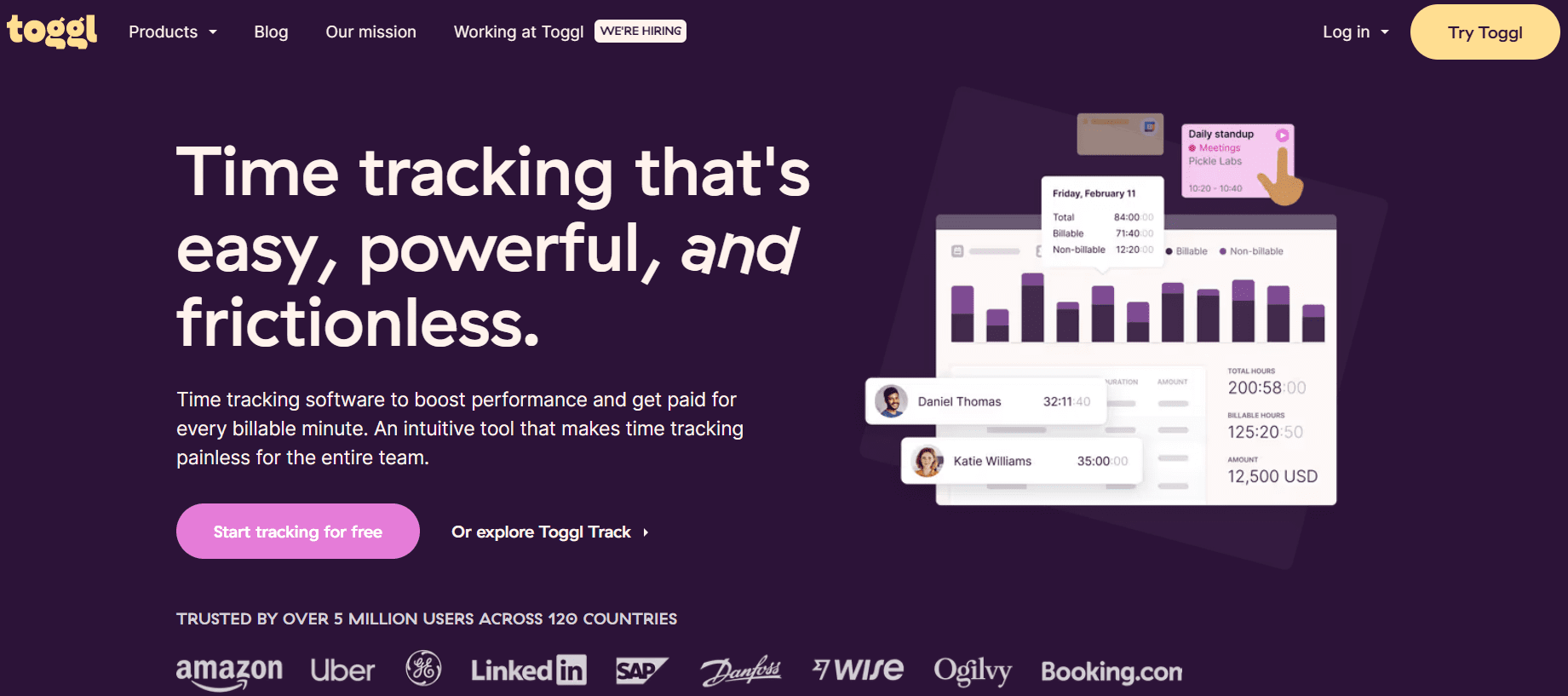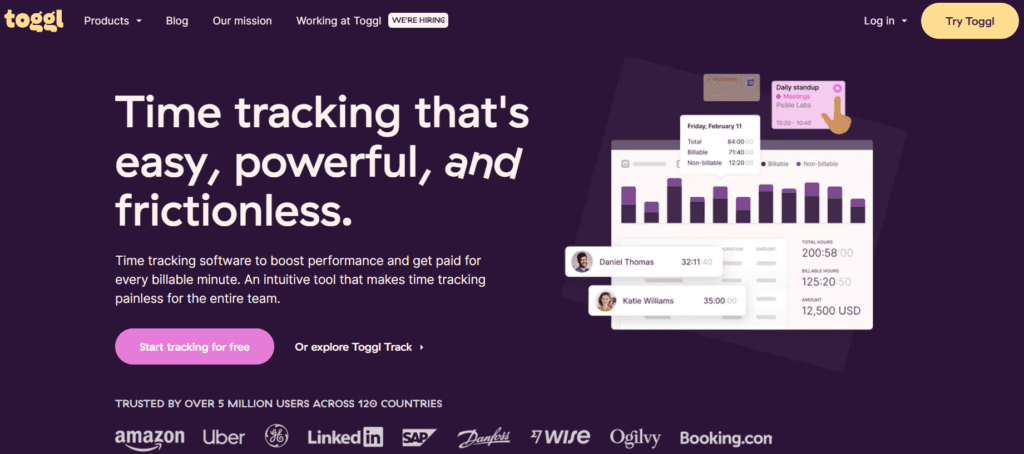 Source: toggl.com
It is yet another simple-to-use application, as it's beautifully designed and incredible. Toggl's simplicity and convenience are its best features.
The app lets you keep track of your time by manually setting a timer or adding time entries for your calendar activities.
If you want to go for advanced categorization, you can use clients, tasks, and tags to perform.
Toggl Track Premium is a free, 30-day trial with all plans.
Freelancers and small businesses in the starting phase can benefit significantly from using the app, as it's free and has beneficial features.
It can be helpful for teams searching for an app that tracks working hours without focusing on personnel monitoring, billing, or expense.
Platforms: Available for Mac, Android, Windows, and Linux
Features
Unlimited time tracking.

Unlimited projects, clients, and tags.

Exportable reports.

Automated time tracking triggers.

Idle time detection.

Pomodoro timer.

CSV imports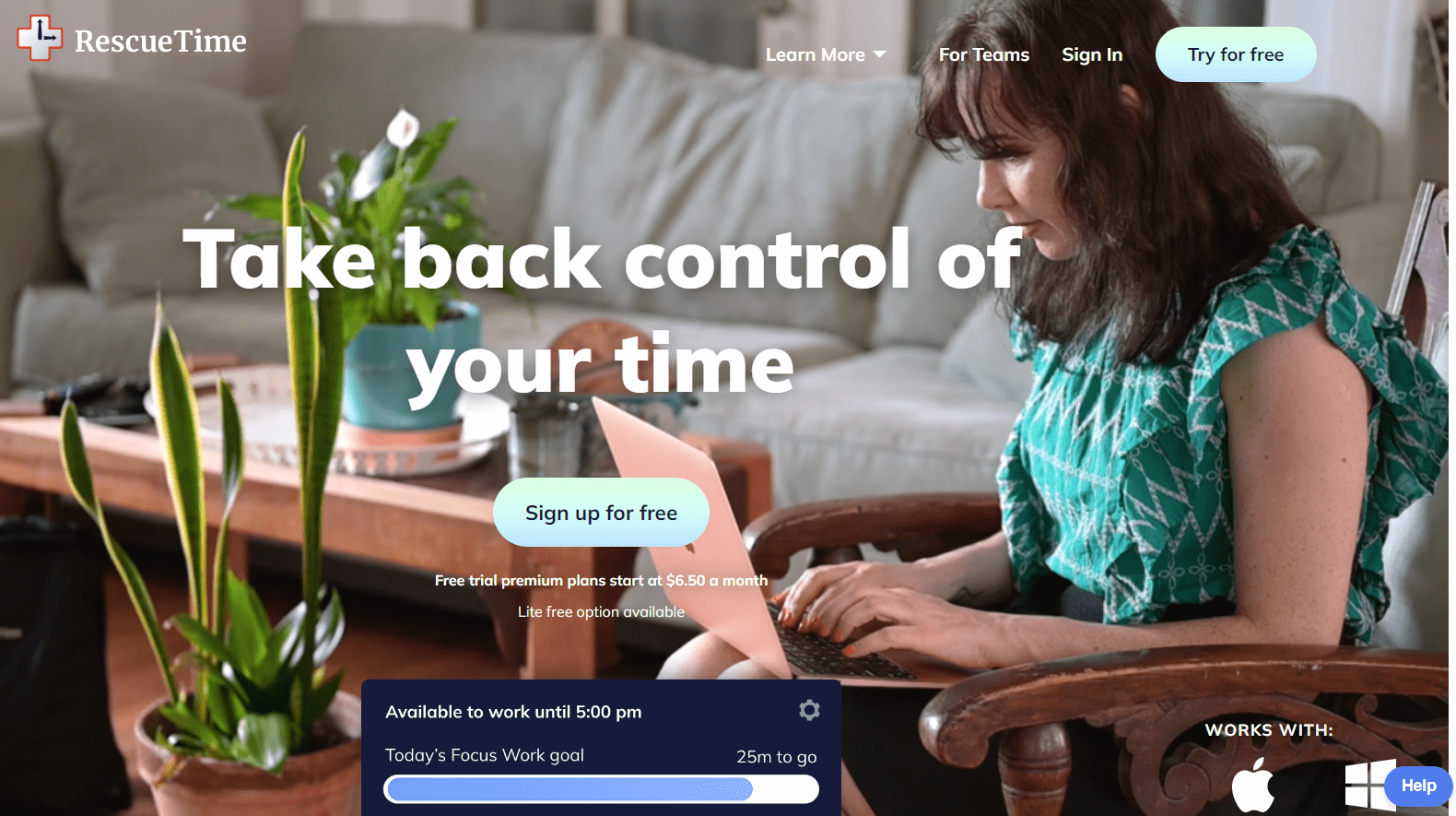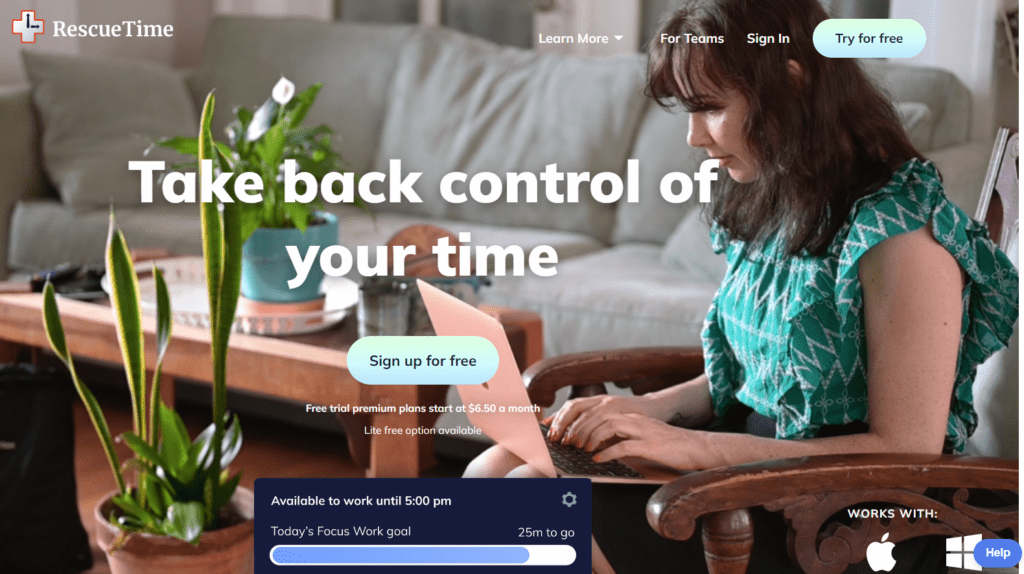 Source: rescuetime.com
We are generally tired of getting distracted while working. Surprise! RescueTime prevents your most significant sources of distraction and tracks your concentration level.
You can set a daily work objective for focus with the help of the time tracking program, which automatically maintains track of your progress.
One of RescueTime's most notable functions is time tracking. It is reasonably accurate, even though it just tracks time for individuals (no projects).
Additionally, it updates the dashboard every five to fifteen minutes so you can see your time on your phone or computer in real-time.
Platform: Android and iOS, Windows, Mac, Linux, and Chrome
Features
Manual and automatic time tracking

Timesheet

Pop-up notices during idle time.

Employee productivity reports 

Simplify employee payments for tracking business-related expenses and billable hours.

Examine employee work hours
What to Look For To Find The Best Tracking App?
Consider the following essential factors before choosing a time-tracking software.
1. Accurate Time Tracking
What is crucial to you as a manager, team leader, or company CEO? Use the appropriate time tracker to guarantee your staff's highest productivity level. 
A decent time-tracking system entails keeping track of the amount of time your staff members spend on various duties throughout the day.
Accurate time tracking features also let you know the productivity ratio of your staff.
2. Employee Reports
A good time tracker software has a good employee reports generating feature. These Reports are typically created depending on each employee's task.
Comprehensive reports include an overview of the work the employee has completed, activity and downtime projects, and their particular Activity reports. 
The reports give you an overall idea about your employees, whether to hire new employees or keep the current ones.
3. Managing project
Completing projects on time and within the budget is crucial for you as a team leader or manager and for your firm.
The project management feature assists you in finishing your projects on schedule, within budget, and to the expected level of quality.
Good time-tracking software is more likely to have project management or task management features. The feature can manage costs, establish deadlines, and allocate employee tasks.
4. Managing payroll
It might be challenging and error-prone to track your employees' timesheets manually. Additionally, manually processing employee payroll is a complicated task.
Keeping employee timesheets is too much, especially if your business is large.
Good time-tracking software comes with a payroll option. It lets you bill clients based on billable time and the approximate agreed-upon hourly rates.
5. Timesheets
Manual timesheets of employees' attendance in large organizations are difficult to make. The time tracking software comes with a timesheet creation feature.
Modern software automatically creates a timesheet using a template and emails it to you in CSV or DOC format at regular intervals (every day, week, or month).
In addition to automated payrolls for billed hours, sometimes tracking apps let you set up automatic payments to consultants or staff members using their preferred payment method.
Time Tracking App
As the name suggests, a time-tracking app is a software program that tracks all time spent on tasks until project completion. Most people confuse it with Employee tracking software and think both are the same but different.
Employee tracking software tracks information about all employees working within an organization.
The time-tracking app typically monitors and evaluates time. Its primary objective is to keep track of the time spent on projects based on task length, which enables one to observe time spent on various activities and procedures within a given project.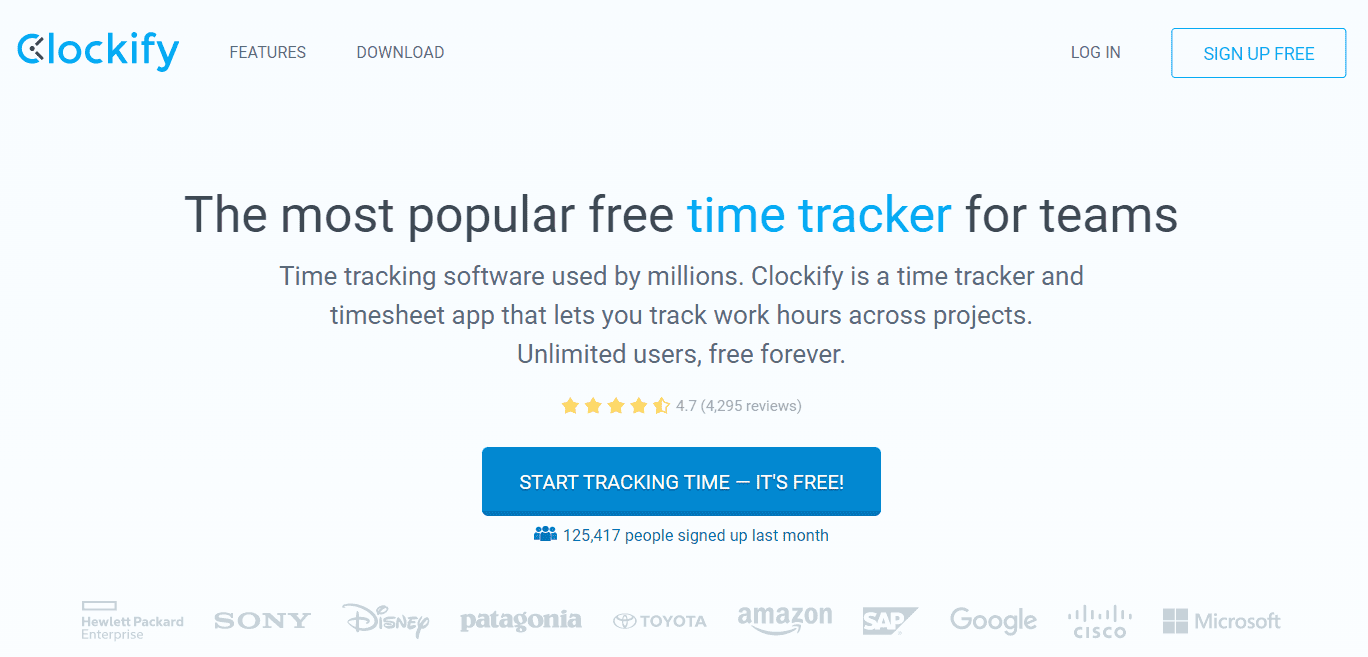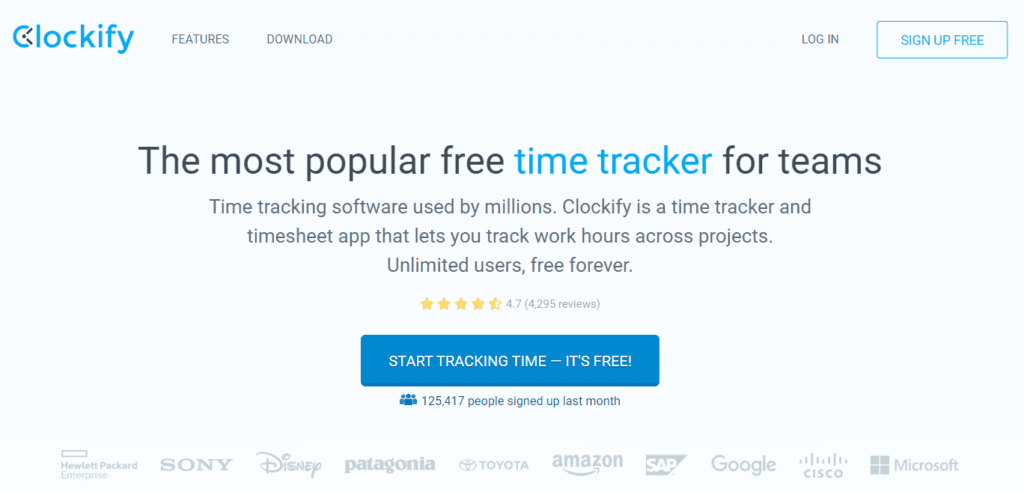 Source: clockify.me
Clockify is one of the most used time-tracker apps. Why is it so? Clockify is incredibly user-friendly and easy to use. It is also accurate and does a great job of keeping track of your time.
With Clockify, you can monitor an employee's time and timesheet across all projects.
The dashboard is ideal for employees who are always on the go because it is accessible on PCs and mobile devices. Users can easily see a summary of their time use. 
What is the most challenging aspect of handling remote employees? It tracks their work time and performance. Clockify can track employees from any place, including the office, at home, on the go, or at an off-site work location. 
The cloud-based platform's GPS monitoring feature makes it ideal for managers who want to ensure their staff work in the appropriate locations.
Some essential features of Clockify are:
Time tracking

Timesheet

Calendar

Integrations

Reports

Projects

Expenses

Invoicing
Clockify's employee calendar is one unique feature that appeals to users. The calendar gives the team or employees a clear idea of where and when they will work, tasks, and projects each day.
It is an excellent technique to guarantee workers have the necessary time at the office or elsewhere.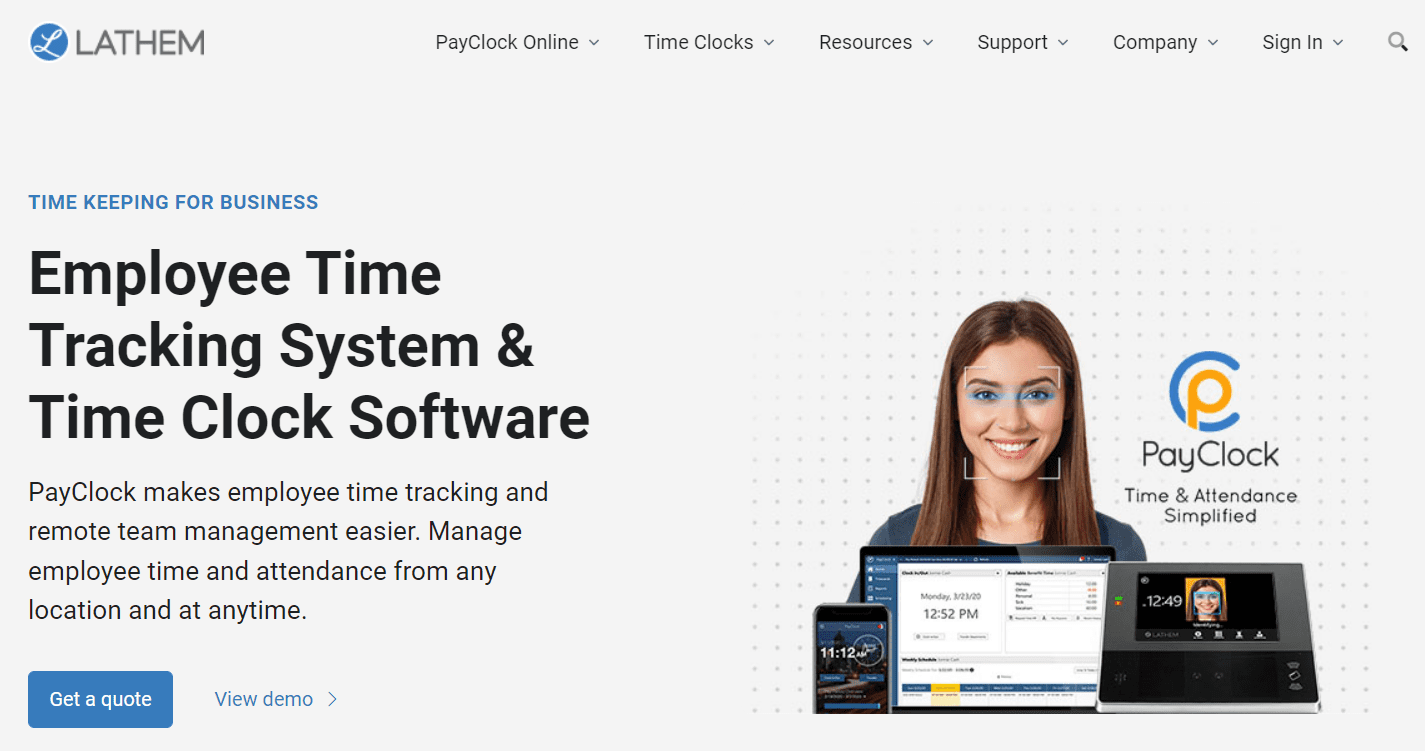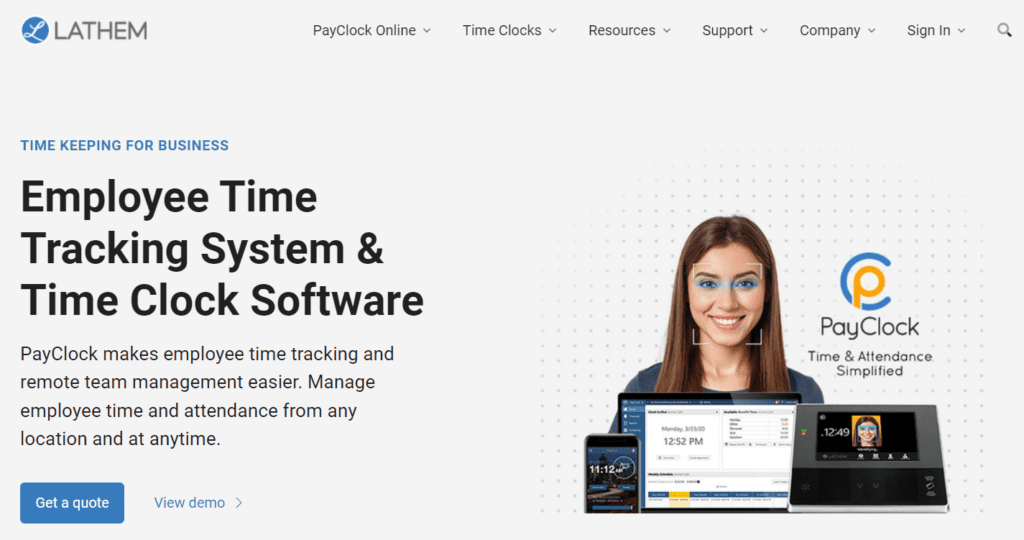 Source: lathem.com
Like Clockify, PayClock Online is a cloud-based time clock service that lets organizations track employee attendance from anywhere. The primary features are a GPS tracking system, scheduling, and a time clock for remote workers.
Employees can only record their work hours by configuring GPS locations in the app's settings.
This software offers mobile access and web interfaces for team managers and employees. PayClock helps to manage remote teams and makes tracking employee time easier.
You can control employee time and attendance from anywhere as a team leader. 
PayClock Online costs anywhere from $30.00 to $160.00 each month. Their enterprise plan is $2.00 per employee for unlimited employees. 
Some essential features of PayClock are:
Reporting/Analytics

Third-Party Integrations

Activity Dashboard

Reporting & Statistics

Alerts/Notifications

Data Import/Export

Customizable Reports

Activity Tracking
Lethem PayClock Online is an affordable, secure option with exceptional features.
The tracker simplifies payroll processing because features like auto calculations and accruals let you generate payroll whenever and wherever. 
Conclusion
A time tracking tool can make it easier to track time, whether you're using it for personal productivity or to improve the efficiency of your corporate procedures.
The above list will give you a better idea of what to look for when choosing a time-tracking software.

Vijay Kumar is a digital marketing expert and founder of TechZant.
He is passionate about helping businesses grow their online presence through SEO and data-driven strategies.