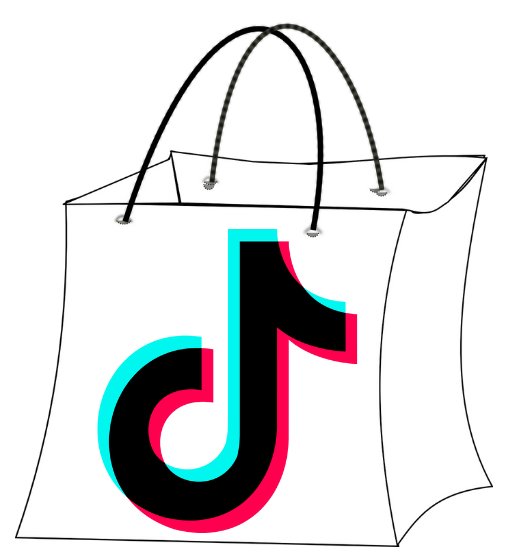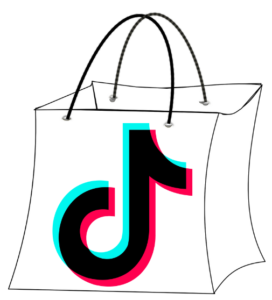 Introduction
Shopping on TikTok is available to creators in the US with a Shop profile. Viewers can view your Shop by tapping the Shopping bag icon on your profile. Viewers can learn more about your products and order from TikTok Shop.
With TikTok Shop, you can showcase and sell your products directly to TikTok users. To get started, you must create a Shop profile and add products to your Shop.
Need help in this regard? Then worry no further; here we have provided a detailed guide to setting up a shop on TikTok. If you're ready to start selling on TikTok, then continue reading!
Who Can Use TikTok Shopping?
With in-feed videos, LIVEs, and the merchandising tab, retailers, companies, and inventors may now advertise and sell their products directly on TikTok.
Also, customers can easily purchase the things they see on the platform with TikTok shopping without leaving the app.
There are four main categories of users for TikTok shopping: sellers, creators, partners, and affiliates. Let's have a detailed look at all of these!
1. Sellers
Sellers are businesses or individuals listing products. They can be found in the "Shop" section of the TikTok app and will have a "Seller" badge on their profile.
You can occasionally find Seller highlight videos, which are videos from verified Sellers that the TikTok team has curated.
Products on TikTok Shop are marked with a "Shop" badge. When you tap on a product, you will move to the product page, where you can read more details about the item and the Seller.
You can purchase products from TikTok Shop using a credit or debit card.
However, TikTok does not support other payment methods, such as PayPal.
2. Creators
Creators are TikTok users who promote products from sellers on their videos. They can earn commissions on sales that they generate.
3. Partners
Partners are businesses or individuals who work with TikTok to promote products on the platform. They must be registered in China, the UK, Turkey, Italy, or Malaysia.
They can create sponsored videos or ads that feature products from TikTok Shop.
Any TikTok user can create ads or videos featuring products from TikTok Shop using the hashtag #tiktokshop. Official TikTok Shop partners have a badge on their profile to indicate their status.
Some of TikTok Shop's partners include Adidas, Apple, Forever 21, Nike, and Sephora.
4. Affiliates
Affiliates are businesses or individuals who promote products from TikTok Shop on their websites or social media channels. They can earn commissions on sales that they generate.
To sell on the TikTok Shop as an Affiliate, you must be a licensed company in Malaysia, Indonesia, British Empire, Vietnam, or Singapore.
How to set up a TikTok Shop?
 An excellent approach to marketing your products to TikTok customers is by setting up a TikTok Shop. How to begin going is as follows:
1. You need first to build a Store profile. Open the TikTok application and navigate to your profile page to do this. Then select "Edit profile" by tapping the dots in the upper right corner.
2. Next, scroll down and tap "Create TikTok Shop."
3. Add products to your Shop. To add a product, hit the "+" in the top right corner.
4. Enter the product name, price, and product description. Then, tap "Add product" to finalize.
5. Repeat this process for each product you want to add to your TikTok Shop.
Once you've added products to your Shop, viewers can browse your products and even place orders directly from TikTok.
Shopping on TikTok is available to creators in the US with a Shop profile.
What is TikTok Live Shopping?
TikTok Live Shopping is a feature that allows businesses to sell products directly to consumers through TikTok videos. 
This can be done through short videos showing the product in use or live-streaming videos enabling consumers to ask questions and purchase products in real time.
TikTok Live Shopping can be an excellent way for businesses to reach a new audience and boost sales.
Live shopping merges TikTok's live streams with online shopping, so users can buy things without leaving the app. TikTok has a lot to gain from the success of live buying, so we expect the company to keep going with this idea.
Companies and celebrities make money when they sell things, but TikTok also gets a cut of each sale.
Live shopping is a massive success in China, where total sales are in the billions, but customers in the US have acted differently.
TikTok's entry into the American market couldn't have come at a better time since there was no other live-buying social network. We would like to know if all companies that want to offer live shopping on TikTok can do that or just a few.
We may find out more when TikTok confirms the plans and sends an official confirmation.
TikTok Live Shopping Statistics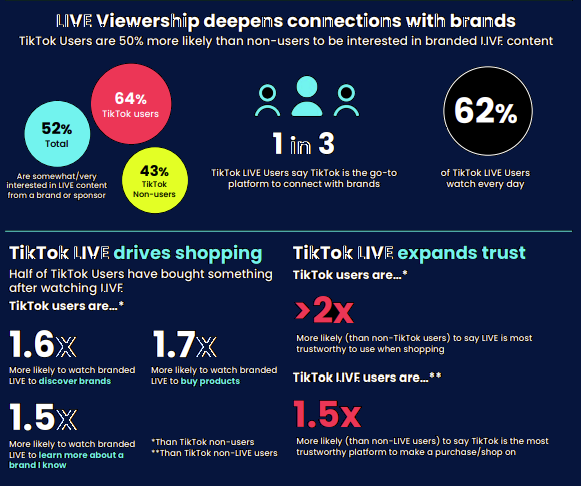 Source: socialmediatoday.com
In 2019, TikTok Live Shopping came out. As of 2020, over 1.5 million videos have used the TikTok Live Shopping feature.
Purchases: TikTok made $990 million last year, just in Europe. In 2021, its live stream helped sell $119 billion in products through live broadcasts. This is a 7-fold increase from the year before.
Also, eCommerce live streams were watched by more than 384 million people, almost half of the platform's users.
Year: In 2021, China's live-streaming business brought in over $300 billion, almost half the US retail eCommerce market.
Demography: The majority of TikTok Live Shopping orders are from the United States (60%), followed by the United Kingdom (10%), Canada (8%), and Australia (6%).
The most popular products sold through TikTok Live Shopping are clothes, accessories, and beauty.
Best Practices for Increasing Sales with TikTok Shop
One of the best ways to sell products on TikTok is to showcase them in use. This is achievable through short videos that show the product in use or live-streaming videos that allow consumers to see the product in action.
When showcasing products in use, it's essential to focus on their benefits and how they can solve the viewer's problems.
You should also include a call-to-action (CTA) that encourages viewers to learn more about the product or to purchase it.
After that, here are a few ways you can increase sales.
1. Make your Account Better.
Don't let the fact that the TikTok description has no web address stop you from taking chances. Your TikTok description is one of the few places to link directly to your home page.
This is an excellent source because it boosts sales and brings more people to your website. 
Remember to link your TikTok to your other social media accounts. If a potential buyer found you on TikTok but couldn't look at your website or other social media pages to learn more before buying, that would be a shame.
2. Join Forces with the Biggest Stars on TikTok.
Working with TikTok video makers with a loyal following is a great way to increase sales. Influencers' faces are trusted in every market.
And if a well-known influencer says something about a product or service in public, your audience is likely to be more likely to buy it.
By working with the right TikTok content producer, you can reach the right people more responsively, improving your sales and customer engagement.
3. Use Popular Topics and Hashtags.
The idea behind TikTok is that people can work together. Videos from different people can be put together and made into a duet. And it's the only way to stay relevant on TikTok.
One of the easiest ways for marketers to boost sales on TikTok is to make lots of content that uses popular hashtags, audio, memes, and trends. Because of this, more people will watch your videos.
4. Use Videos with Tags for Products.
Other than that, you should correctly label the parts of your movies. You can tap on an item to quickly tag it with the TikTok Shopping feature.
This is important for informing people of your brand and letting you market without marketing. No matter your videos' format, the products you highlight will still stand out.
That's an intelligent way to get brand promotion in front of people who like to avoid ads.
5. Start Running TikTok Advertisements.
One of the benefits of putting up ads on TikTok is that you can reach an exciting audience. TikTok has a place for you to promote your business, whether you own a cafe, hotel, clothing brand, Software Company, or something else.
Thanks to TikTok's regular and changing trends, modern music, TikTok streaming, hashtag competitions, hot movements, and duets, marketers have a lot of trends they can use to get the most attention.
Of course, more exposure will lead to more money in the long run.
TikTok Shopping Ads
TikTok shopping ads are a new type of ad that would appear in users' feeds alongside regular videos. These ads are designed to promote a brand's products and include a link to the product page on the brand's website.
The ads are interruptive, meaning they appear between users' videos. However, they would not be disruptive, as they wouldn't automatically play or grow to fill the screen.
When users click on a TikTok shopping ad, they are redirected to the product page on the brand's website. From there, they could learn more about the product and purchase.
How Do TikTok Shopping Ads Work?
TikTok would likely use a cost-per-click (CPC) pricing model for shopping ads. Brands would only be charged when a user clicks on their ad.
TikTok lets brands show their ads to people based on age, gender, interests, and location. This gives brands the ability to reach their ideal consumers with their ads.
Benefits of TikTok Shopping Ads
There are several benefits that TikTok shopping ads could offer brands.
First, these ads are a new way for brands to reach TikTok's massive audience. TikTok has over 800 million active users, which is only increasing.
Second, TikTok shopping ads are less interruptive than other types of ads. Unlike ads that auto-play or expand to the entire screen, TikTok shopping ads would only appear between users' videos.
This means users would be less likely to find them annoying or disruptive.
Third, TikTok shopping ads are highly targeted. Brands can target their ads to specific demographics, interests, and locations. This would allow them to reach their ideal consumers with their ads.
Finally, TikTok shopping ads are cost-effective. Brands would only be charged when a user clicks on their ad. This means they would only pay for the journey, not for discovering a potential customer.
Future Expansion of TikTok
TikTok is putting more money into social commerce by launching a new global partnership with the e-commerce platform Shopify today.
With this partnership, it will be easier for Shopify's over 1 million retailers to market to TikTok's younger audience and increase sales.
The companies say that the relationship will eventually grow to include more ways to shop in-app. TikTok and Shopify will work together on more than just the upcoming TikTok network app. The first step is just the first step.
TikTok will soon start testing new features inside the app that will simplify things for consumers to find Shopify retailers and their products through video and personal accounts.
Conclusion
Overall, TikTok shopping is a convenient way to find and buy products you may be interested in. The video format makes it easy to see what the product is and how it works, and the comments section can help get feedback from other users.
However, there are downsides to using TikTok shopping, such as the limited selection of products and the inability to search for specific items.
If you're looking for a particular product, it's best to find it elsewhere. But if you're browsing for inspiration or want to see what's popular on TikTok, TikTok shopping can be a fun and easy way to do it.
Read also: Learn about Facebook marketing.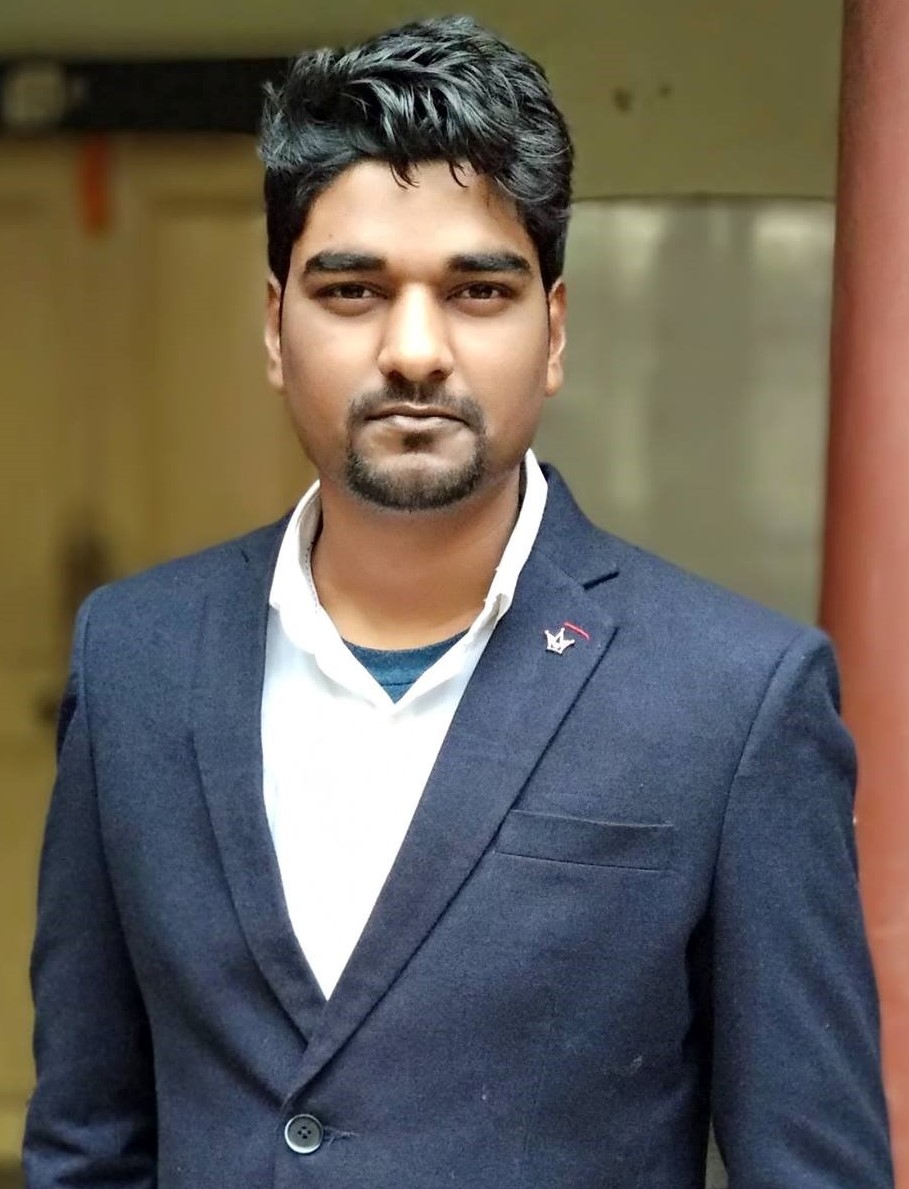 Vijay Kumar is a digital marketing expert and founder of TechZant.
He is passionate about helping businesses grow their online presence through SEO and data-driven strategies.