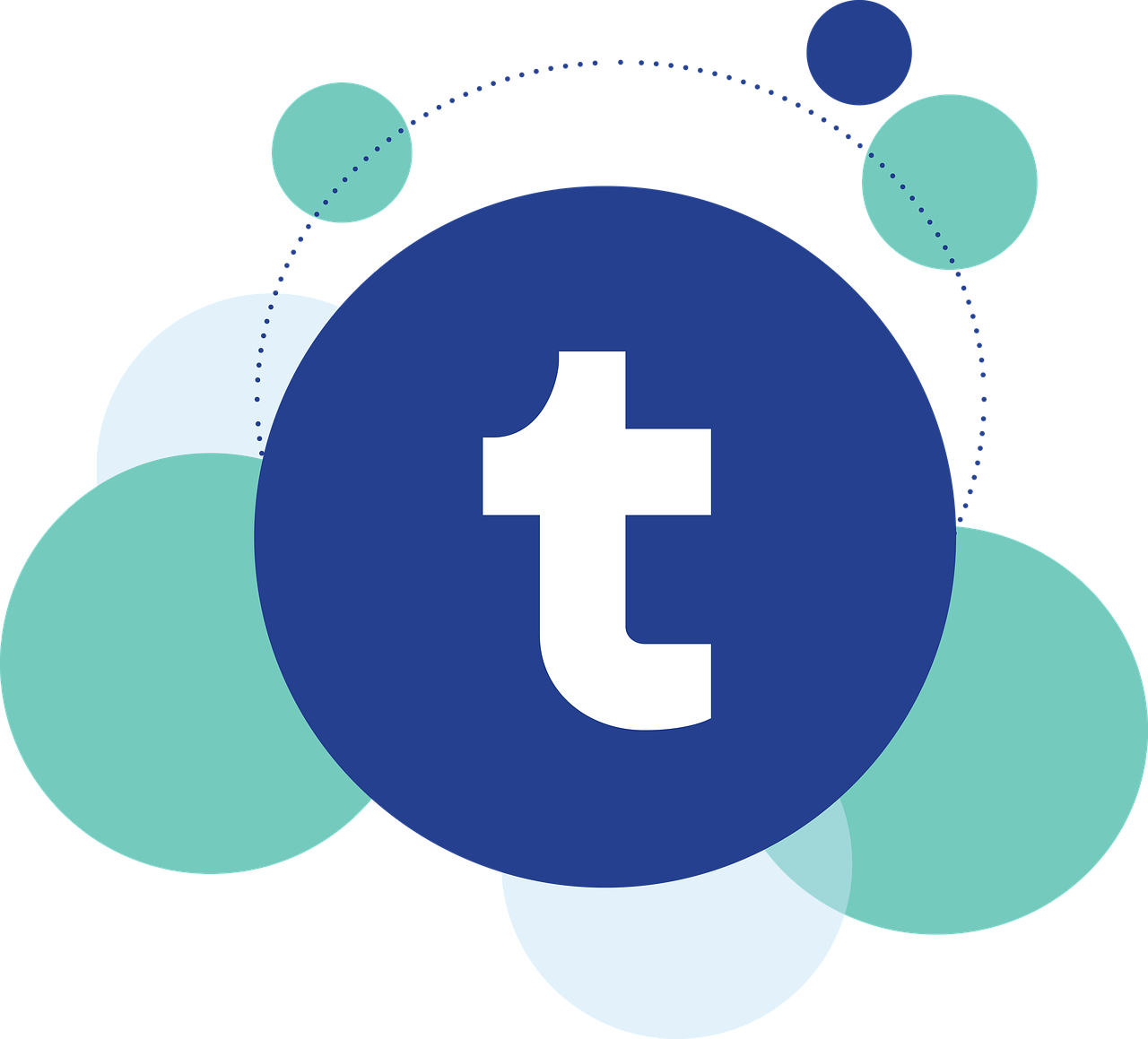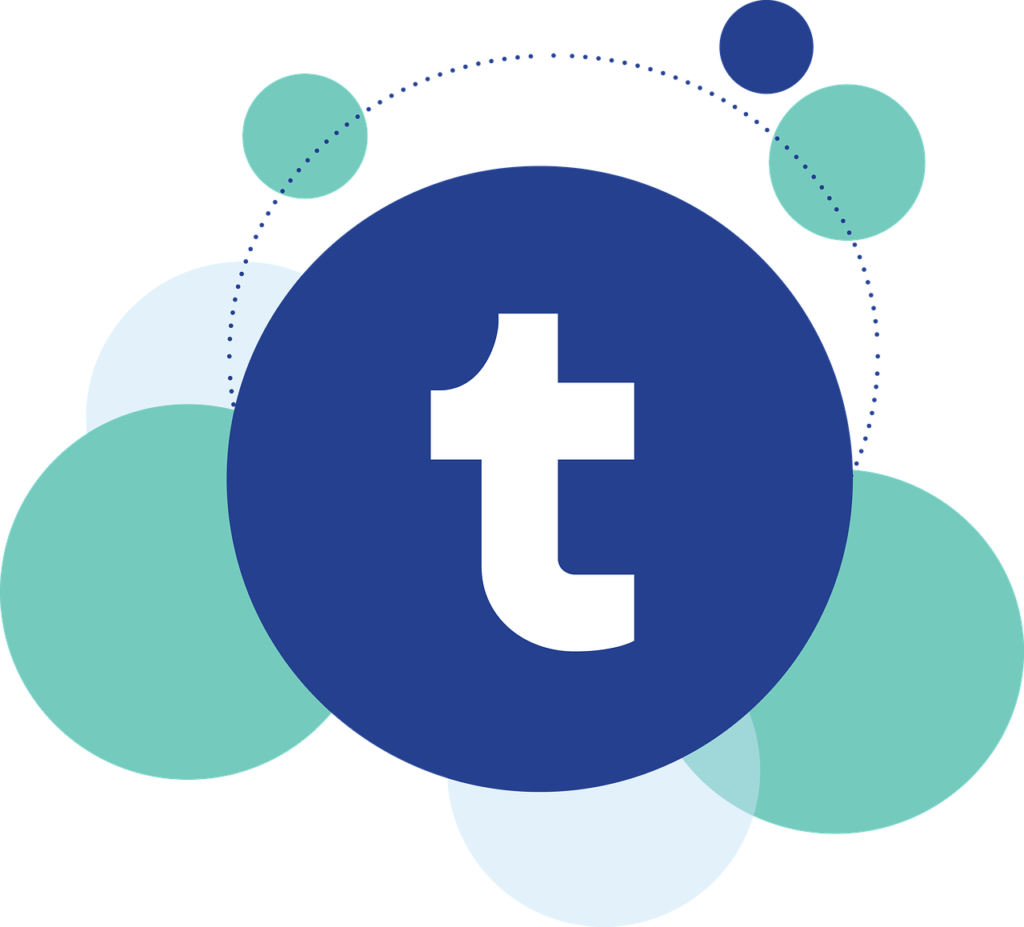 Introduction
Blogging can be fun, but if you need to know which platform can be best for sharing your blogs, you might end up in deep waters. Want to know about an excellent platform? Then you are at the right spot. Every blogger's first goal is to provide great content and drive traffic to their blog. And that's precisely what Tumblr offers new bloggers.
It is an excellent alternative for new bloggers trying to establish themselves online. Its features are entirely beginner-friendly and simple to grasp from the outset.
As of 2022, the microblogging and social network maintained 564.9 million blogs on its domain. It is one of the numerous blogging sites, with over 32 million bloggers in the United States alone. 
If you search for a complete Tumblr guide, you have landed at the right place. The article will guide you about Tumblr and how you can outshine your blogs there, so be with us till the end.
What is Tumblr?
As a blogger, you want to understand what social media Tumblr is. Tumblr is a microblogging and social networking website founded in 2007 by David Karp and is now owned by Automattic.
Its main distinction is its free-publishing platform, allowing users to modify their pages. You've probably observed that nearly all other social networks have standardized profile pages with little design flexibility.
It is unique in combining blogging and social media networking in one spot. Bloggers can attract readers and establish topic authority by posting multimedia information.
The best thing about Tumblr is it's effortless to use. The platform offers bloggers to add GIFs and videos to their posts to make them more attractive.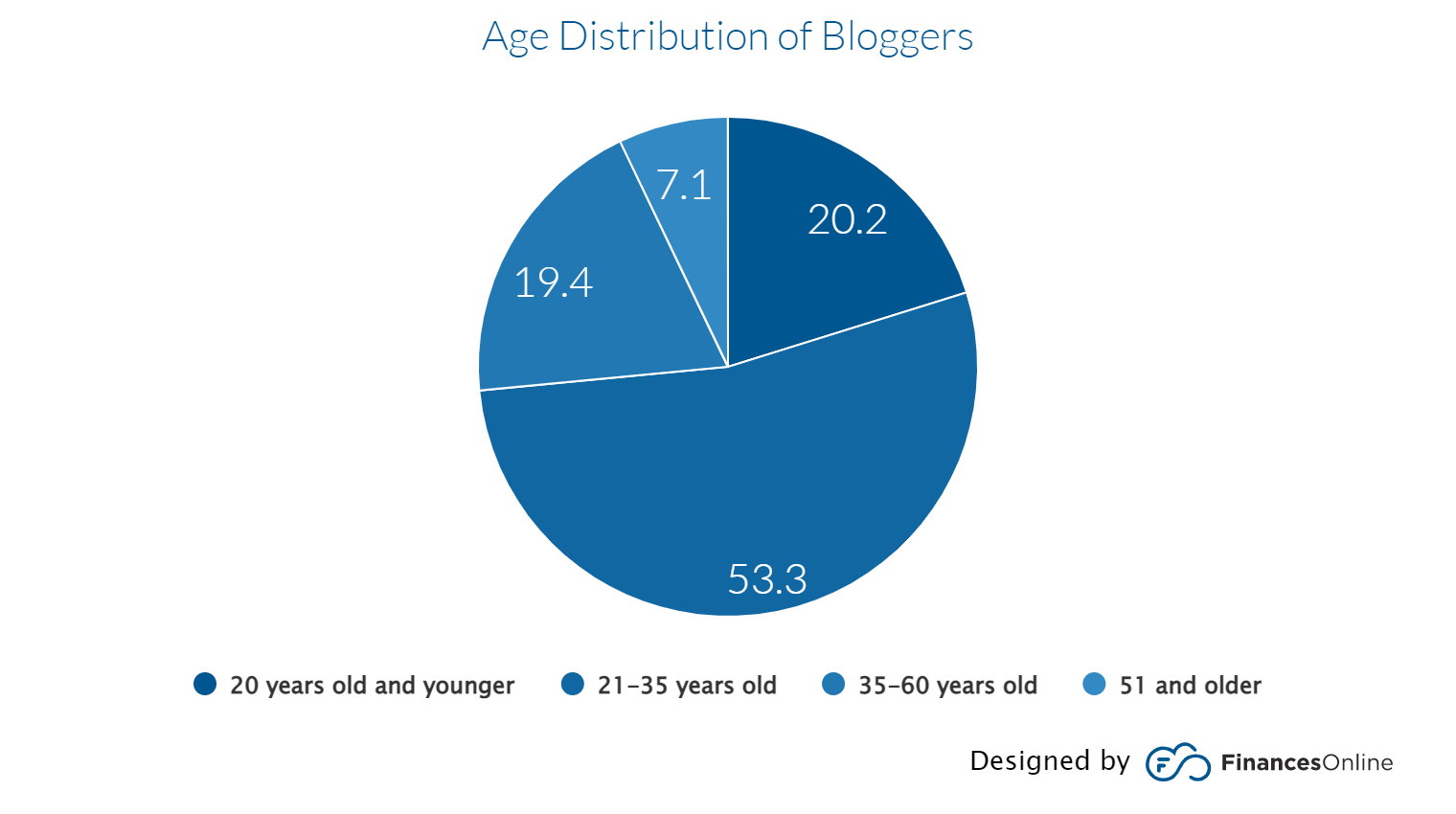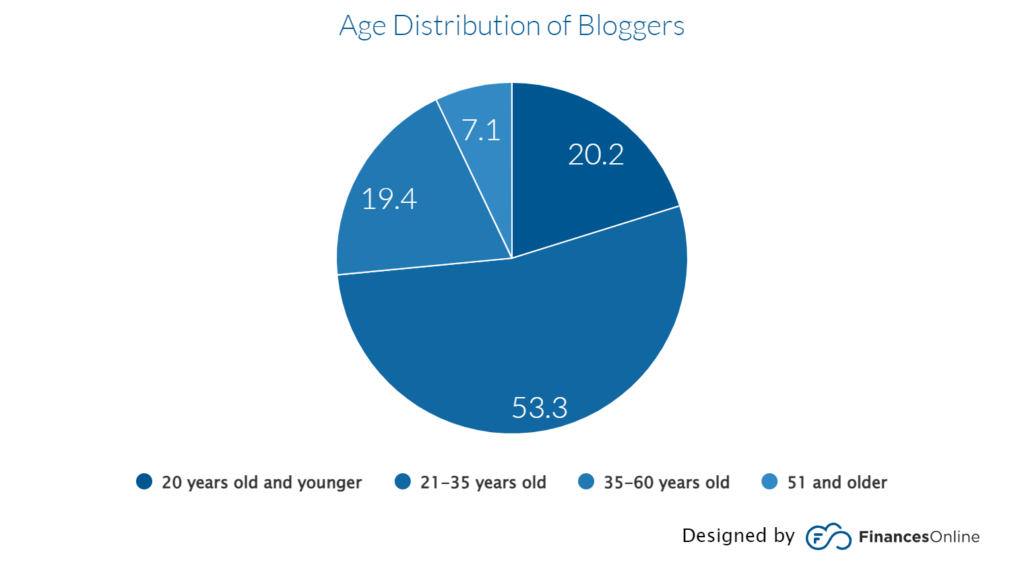 How to Make a Tumblr Account
Let's go over how to create a Tumblr account so you can get started on one of the most engaging networks. 
Creating a Tumblr account is similar to creating a profile on other social media platforms. Follow the steps outlined below, but first, choose a Username. 
Your username will be your Tumblr identity, and it will appear in the URL of your primary blog.
1. Go to www.tumblr.com.
2. Now, enter the email address, password, and username you want to use for your profile. Remember that if you enter a username already chosen by someone else, you will be shown a list of similar names. You can choose from the list, or if you wish to try a different name, enter it and see if it is available.
3. You are now ready to sign up after entering an available username.
4. You will be asked how old you so enter your age in the section. Proceed by agreeing to the terms of service.
5. To proceed, type the text in the image and click "nearly done."
6. There will be a gallery of blogs. Follow up to five blogs by clicking the follow button in the top right corner of the blog.
7. You can also search for blogs that interest you.
8. Click the "see it" button after selecting the blogs.
9. Posts from the blogs you follow will appear on your dashboard. If you want to learn more about how to use your dashboard, go to "your dashboard."
10. Log in to the email account you used to sign up with Tumblr to verify your email address. Open the email from Tumblr Support and follow the link to confirm your email address.
How to Post and Save Posts on Tumblr?
Using our instructions, you can share your first post now that you've created a Tumblr account. You must first pick what you want to blog about or topics.
It is entirely up to you to post stuff about your life, hobbies, or anything else.
You may make your blog more fascinating by choosing from free theme alternatives. You have to purchase a premium theme if you would like it. 
Premium themes allow you to customize them. You can select a background image, tagline, typeface, etc.
How to Publish Posts on Tumblr?
1. Click the arrow next to the name of your blog. Choose the blog you want to write on. You will create and modify the content for this post in the dialogue box that displays.
2. A menu symbol will appear in the screen's dialogue box's top right corner. To add the content sources, click the gear icon. Make sure you choose a distinct URL.
Set a post date and allow comments on the post. It will change the settings for this specific post but no other posts.
3. You can now enter the post's title into the textbox. You can change the font, add hyperlinks, photos, videos, and GIFs, and customize your post using the toolbar below.
With the B icon, you may make your text bold. The infinity loop is to add a hyperlink if you want to add any, while the line-through loop will remove one.
4. You can also format your posts in numerical or bullet form. You can add images and other media add-ons and use Tags and labels. 
5. You may share your Tumblr post on other social networking platforms using the bird sign for Twitter and F for Facebook.
6. When you're finished editing or adding photographs or videos to your post, click the blue Post button to share it with the rest of the world.
Tumblr allows you to publish seven different sorts of posts.


A Chat post allows you to share a short conversation clip.

A text post in which you can include introductory text, images, hyperlinks, and videos.

A Quote post consists of the quote and credit of the source.

A Link post allows you to submit a link to a website and a brief description.

With an Audio post, you can upload a single.mp3 file per day.

A video post lets you upload a video to share with your followers.

A Photo post enables you to upload an image and a brief explanation.
How to Save a Post on Tumblr?
1. Click the Like button.
2. Re-blog (similar to retweeting) the post on a private blog you've made exclusively for the purpose.
3. Create an IFTTT recipe (IFTTT is an abbreviation for the conditional programming phrase "if this, then that") that automatically adds every new post or re-blogs tagged with #Save to your Pocket account.
How to Use Tumblr Themes?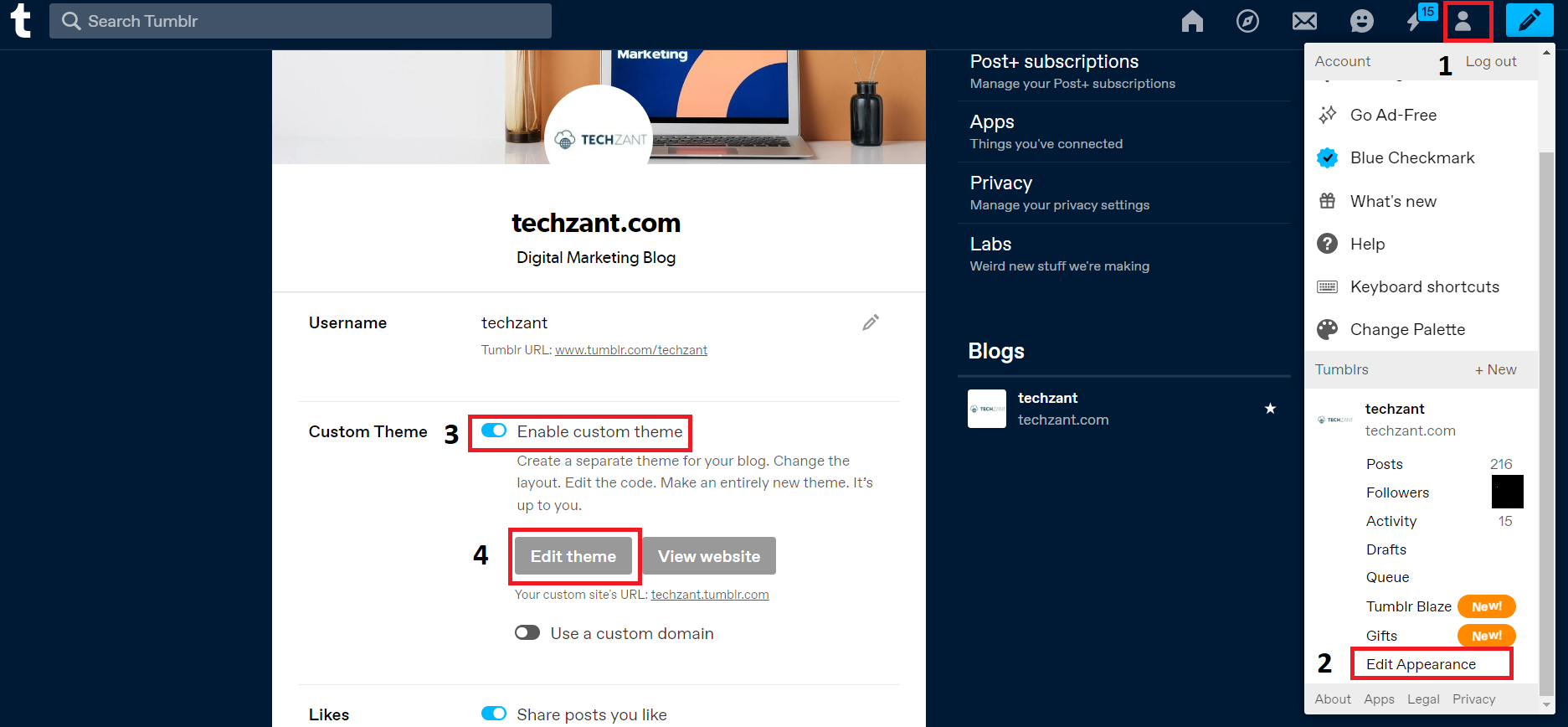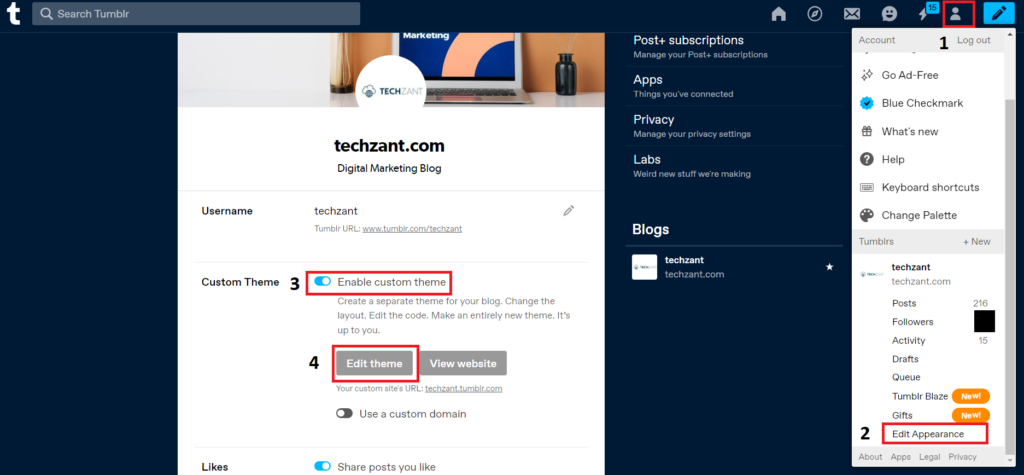 Installing a theme from the Tumblr themes directory is a simple procedure. Select a theme and click the green Install button.
However, the process differs for themes purchased or downloaded from a third-party source.
In the upper right corner, click on the account symbol.

You can now select "Edit Appearance" and then click on "Enable custom theme" and "Edit Theme."

Then select "Browse Themes."

Choose a theme from the directory that you prefer. Choose your favorite theme and press the Use button.
Your blog should now have a completely new design.
Now let's learn to use Themes from a third party.
Extract the content of your theme's ZIP file from the theme marketplace.

Inside the folder you extracted will be an HTML file titled "install." Open this file in Google Chrome or any other browser.

Select all the code in the .html file and press CTRL + C to copy the code.

Go to your Tumblr dashboard and open the theme editor. Select "Edit Appearance," then click "Edit Theme."

Select all code in the HTML panel and delete it by clicking modify HTML.

Copy and paste the theme code. Paste an HTML file into the Tumblr editor.

Now that you've seen how the theme looks, click the "update preview" button, and if you like it, click the "save" button.
How to Use Tumblr for Writing
Tumblr may be an effective platform for content generation that boosts engagement, website traffic, and inbound leads. Most writers use it to show their unique style of writing. 
Decide your Tumblr blog idea, like do you want to blog to increase brand exposure, educate customers, or improve customer service. Decide what you want to write about.
Tumblr writing is similar to LinkedIn writing. You can write about anything, but make it sound interesting. Maintain a consistent posting schedule. If you are consistent, only then can you create your community.

Try out different types of posts to find which ones perform best for you and your audience. You can share your life stories, your hobbies, and your activities. You can share any of your written stories or poems also. 

Use relevant hashtags to increase the number of people who see your work.

Lastly, connect with others. Refrain from giving an opinion to merely expecting comments on your posts. Be genuine with your idea. Select other accounts that you appreciate and interact with them regularly.

That is the most effective method to develop a community!

You can share your favorite quote if you can't create content or write anything.

Create basic and easy-to-understand content. 
Tumblr for Business
Tumblr's platform contains blog entries and fascinating images, making it an excellent choice for hosting a company page and running advertisements. 
So, if you're not using Tumblr as part of your marketing strategy, you're missing out on a huge opportunity.
1. Use of Visual Media
People are drawn to pretty things, and Tumblr allows you to accomplish just that. It could be a good fit for creative forms of marketing and advertising.
The network primarily focuses on images and design, making it an excellent way to promote your business visually.
2. Build Your Brand Website on Tumblr
It offers a plethora of personalization choices for your blog. There are paid and free themes and the option to build your own.
Some business owners choose Tumblr as their company's website since personalization is simple. 
You can buy desirable URLs relevant to your business and redirect them to your Tumblr blog. You can SEO your URL also to bring more traffic to your website. 
3. Collaborate with Collective Artists and Designers for an Ad Campaign
For businesses interested in advertising on Tumblr, there are several excellent possibilities. Native advertising experiences and custom opportunities are the two companies' most popular choices.
As a marketer, you can collaborate on your advertisement with collective artists and designers via Tumblr to create a network.
4. Blog Posts
Your blog entries might be used to promote your brand. Use SEO-friendly keywords to optimize your blog. Remember your target demographic while advertising your brand through distinctive blog entries.
You can improve the appeal of your blog by including product images or videos.
5. Find out Trending Topics
Like Google's trends page, Tumblr's explore area can be used to discover the most popular articles, blogs, and topics. This area contains all of the exciting news and discussion pieces.
You can look through the platform's hot topics and posts to see how to make a post on those topics work for your brand.
6. Using Hashtags
Tumblr hashtags help direct the proper people to your page. Furthermore, using relevant hashtags can increase your brand's traffic.
Relevant Hashtags are an excellent method to find new customers and develop your brand.
Who Uses Tumblr the Most?
People believed that with the passage of time and the introduction of social media platforms such as Instagram and Tiktok, Tumblr's popularity would wane, but they were mistaken. 
With the Corona 2019 pandemic, Gen Z rushed to Tumblr; by early 2022, 61% of its new users and nearly half of its active users were under 24. Tumblr now has more daily active users than WordPress.
Tumblr, like TikTok, has a younger user base than other social networks like Facebook and Instagram. Two out of every five users are between 18 and 25. The site's media appeals to Millennia and Generation Z.
Millennials account for one-third of the site's audience.
Tumblr's attractiveness among adults has dwindled since the introduction of alternative social media sites such as Instagram, Facebook, Twitter, and TikTok.
But it doesn't imply it's no longer valuable. It may be a terrific forum for aspiring bloggers or businesses trying to market their products.
FAQs
1. Is Tumblr a social media?
Yes, Tumblr is a social media platform founded in 2007 suitable for microblogging and posting GIFs, videos, audio, links, etc.
2. Who uses Tumblr nowadays?
Most of the users of Tumblr are Gen Z which makes up around 60% of the user base.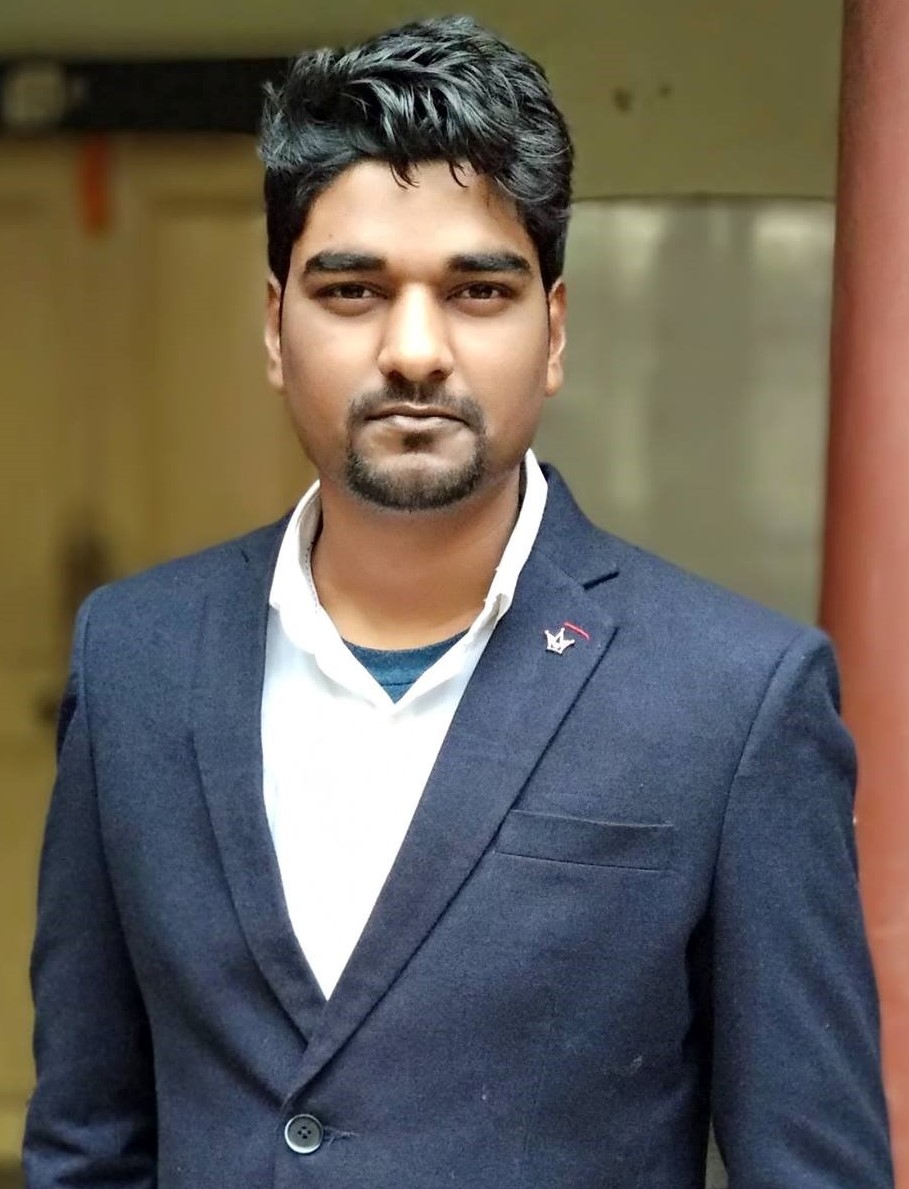 Vijay Kumar is a digital marketing expert and founder of TechZant.
He is passionate about helping businesses grow their online presence through SEO and data-driven strategies.